What makes The Coop a great place to work?
Click here to view an accessible transcript
Career Opportunities
Since 1921, The Cooperative Bank of Cape Cod has been a part of the Cape — working with individuals and families, with businesses as well as communities, to help each of them achieve their goals and dreams. And our commitment to working together has never been stronger than it is today. We pride ourselves on providing exceptional service to our customers and a challenging and rewarding work environment for our employees, where each person is respected, valued and plays a vital role in the success of our organization. In 2020 and 2021, The Coop was named Best Bank to Work For by American Banker. We are always looking for friendly, self-motivated people who enjoy helping others, have great communication skills, are detail-oriented, and enjoy working as part of a team. If this describes you, then we invite you to consider a career with us.
We offer a dynamic work environment, unique opportunities for growth, competitive salaries and a comprehensive benefit package that includes:
Health and dental insurance
401(k) with generous matching contribution
Vacation and sick time
Daycare subsidy
Tuition reimbursement
Robust incentive program
Check out our list of openings below and simply click on the Position Title to learn more about each career opportunity and to apply. We look forward to meeting you!
If you're having trouble viewing the opportunities, please visit the Career Opportunity page below.
---
As The Coop Grows, So Do Our Employees
Team members at The Coop routinely go above and beyond to provide exceptional service to our clients and communities. They earn professional designations and attend specialized industry schools, seminars, webinars, and annual educational training programs – all to better serve our clients right here in southeastern Massachusetts. We couldn't be prouder of their accomplishments. Below is an example of our employees' achievements for 2021 year.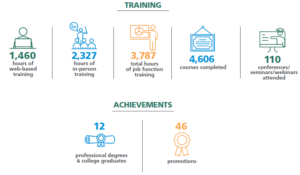 ---