As another Cape Cod summer approaches, our thoughts turn to vacations and welcoming seasonal visitors to this special peninsula at its finest.  We recognize the importance of  the summer season not only to all of us individually and to our families and friends, but also its significance to the many Cape Cod businesses.  This is the ideal season for all of us all to take a moment to appreciate our community in this beautiful place we call home.
I remain in awe of and impressed by the resilience, perseverance and unbreakable spirit of our Cape Cod neighbors. While it hasn't been easy, together we continue to emerge from the pandemic and move our lives and businesses forward. And as we do, rest assured that The Coop stands ready to partner with you as we listen, learn, solve and support near and long term goals.
I am particularly proud of our loan program to provide homeowners capital to create Accessory Dwelling Units – or ADUs – to help alleviate the Cape's housing crisis. Not only do ADUs provide much needed affordable and workforce housing, but they can generate revenue for homeowners as they become landlords in the comfort of their own homes. Charlotte Green, our Residential Mortgage Sales Manager, describes what ADUs are in this video and details of how this program adds much needed housing inventory.


The Coop Foundation awarded $30,000 in grants during the fourth quarter of our fiscal year to nonprofits addressing fundamental needs and challenges in our communities. Grants were awarded to B FREE Wellness, Cape Cod Children's Place, Cape Cod Military Support Foundation, Inc., Cape Cod Toy Library Inc. and WellStrong. Congratulations to these nonprofits for the important work they undertake every day. Your work does not go unnoticed.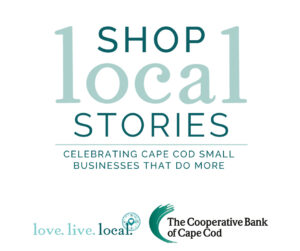 Small businesses are the heart of our region's economy and deserve recognition for the service they provide to our communities. We recently partnered with Love Live Local, a Hyannis-based advocacy organization dedicated to educating consumers on the importance of shopping local. We will provide financial support for the Shop Local Stories series, a year-long program to honor Cape businesses that contribute to the community beyond simply providing good and services. Know a small business that fits the bill with exceptional service or outstanding community involvement? Nominate them at www.lovelivelocal.com/shoplocalstories and they could win a digital marketing package worth $500.
We have also welcomed several new faces in recent months.
I am pleased to announce that Jonathan Sherwood has joined The Coop as First Vice President, Commercial Relationship Manager and Evan Horton is on-board as the new Falmouth Branch Manager and Small Business Specialist.
Also, Mary "Beth" O'Neal, a longtime employment lawyer, and David Brown, chief investment officer of CUNA Mutual Group, were elected to three-year terms on The Coop's Board of Directors during our annual meeting in late April.  Sabrina Kane, an elder law attorney, was elected Corporator for a 10-year term.
Welcome to all!
Martha Ramsey, who served on the bank's Board of Directors for more than three decades, recently announced her retirement. I can't thank Martha enough for her service and friendship and wish her a long and healthy retirement.
And finally, I recently had the pleasure of speaking at the inaugural — and sold out – Cape Cod Women's Business Summit. The Coop was the presenting sponsor and I couldn't be prouder of my team and the work they did to ensure a successful event. It was an incredibly inspirational day of learning and sharing experiences for over 250 women with the theme of "Power Moves for Powerful Women." I look forward to the Summit becoming an annual event.
I hope your summer is full of family, fun and memories and for our local businesses, a season of economic prosperity. And please don't forget – use sunscreen.
Best Regards,
Lisa Oliver
Chair, President & CEO