Our chip-enabled Debit Mastercard® is the easiest and most secure way to access your money. And, you can get one in an instant.
Our Instant Issue Debit Cards offer the same chip-technology as traditional embossed cards you receive through the mail, but the instant issue cards are produced on the spot at any of our convenient branches. You can choose from one of 4 card designs and set or re-set your PIN too. Open a new checking account and walk out that day with your debit card. It's that easy. With a free instant issue debit card, it's easy to make purchases in stores or online. Unlike a credit card, funds are deducted automatically from your checking account with no finance charges or monthly payments. And when you need cash, you can use your card at any ATM.
Replace lost or stolen debit cards on the spot.
Instantly change your PIN.
Choose between a selection of card designs featuring Cape Cod scenes.
Accepted worldwide
Make purchases in stores or online
Withdraw cash from most ATMs1
Funds automatically deducted from your checking account
No monthly payments, annual fees, or finance charges
Free transactions at all branch and Allpoint Network ATMs1
Track spending with comprehensive monthly statement
Standard $500 daily withdrawal limit
Safer than cash and more convenient than checks
1Other banks may charge a fee for the use of their ATM
Chip-enabled debit cards offer the latest in technology and security.
Chip cards look just like your current magnetic stripe debit card, but they also have an embedded microchip for a more secure transaction. The chip contains your card number, name and other account information. There is no other personal information stored on the chip. Due to security in the chip, every transaction you make is unique, making it extremely difficult for the card to be copied or counterfeited. Your chip card will also have the usual magnetic stripe on the back so that you can continue using your card while merchants are transitioning to new chip card terminals.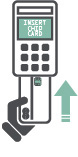 1. Insert your chip card into a chip-friendly reader.

2. Approve the amount.

3. Follow prompt to enter your PIN or to sign.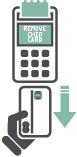 4. Remove your chip card when prompted.
To pay with a chip card simply insert your card at checkout rather than swiping when possible. If a chip-friendly reader is not available, you can swipe your card as you always have. When you use your chip card, you will either enter your PIN or sign to verify who you are at checkout. The card terminal will tell you what you need to do. The biggest difference is that you will leave your card in the reader during the entire transaction. The approval process may take a few seconds longer than you are used to. Be sure to remember to remove your card when done.
Debit Mastercard® for Business goes well with. . .
Looking For A Different Type of Business Service?
We have a variety of options, and we know we have the perfect business service available for you.