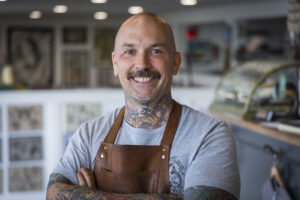 For the past 20 years, Mark Corliss has perfected his craft. But unlike most artists, his canvases come to him. In fact, they make appointments up to a year in advance and travel from across the U.S.
Mark specializes in body tattoos based on Japanese art, and he relishes working with his clients to create something truly unique for them.
Mark owns Spilt Milk Tattoo, which was located for years on Main Street in Hyannis. Recently, he moved and expanded his studio to 48 Route 28 in West Yarmouth, a longtime Cape Cod landmark because of the building's distinctive treasure chest shape.
Mark renovated the inside of the building creating an inviting, modern art gallery with plenty of space for himself and guest artists. The walls are lined with Mark's extensive artwork and examples from others, too.
His new studio is also next to another favorite: Old Kings Coffeehouse. Mark and his wife, Kate, opened the coffeehouse in 2019. With premium coffee, plenty of takeout options, and a devoted staff, they preserved through the pandemic. Today, the year-round coffeehouse thrives serving locals and visitors alike.
Because they "seek out every opportunity to support people in our community," Mark and Kate were named Cape Codders of the Month in July 2021.
Want to learn more about Spilt Milk Tattoo? Follow them at these links:
Facebook | Instagram | Website