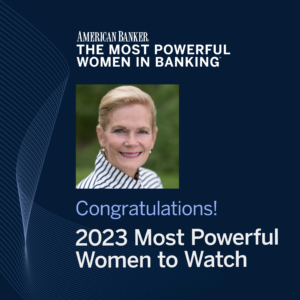 Lisa Oliver, Chair, President and CEO of The Cooperative Bank of Cape Cod, has been named one of 2023's The Most Powerful Women to Watch by American Banker magazine.
Now in its 21st year, American Banker's The Most Powerful Women in Banking™ initiative recognizes individuals and teams for demonstrating exceptional leadership skills, strong business performance and a commitment to driving real outcomes for diversity, equity and inclusion in financial services.
"These women represent so much more than world-class business acumen and inspirational leadership skills," says Chana Schoenberger, Editor-in-Chief at American Banker. "They symbolize the perseverance it takes to create meaningful change, the commitment needed to build stronger communities, and the creativity that's essential to drive the industry into a new age."
In addition to leading The Cooperative Bank of Cape Cod to increases in net income, return on average assets and overall growth, Lisa spearheaded a comprehensive communications campaign in the wake of banking industry turmoil to ensure customers that all deposits at the Bank were safe and secure regardless of balance. She also quickly pivoted the Bank's marketing and sales strategy from being loan-focused to deposit-focused to better serve its clients. At Lisa's direction, the Bank's philanthropic efforts supported three of the region's most critical issues – housing initiatives and solutions, social justice and racial equity.
"I am proud and beyond humbled to be recognized with this honor from American Banker along with so many other accomplished and talented women who are making an indelible mark on the nation's banking industry," said Lisa. "I would not have received this honor without the support, hard work and camaraderie of the entire team at the Bank. The superior service they provide our clients and business customers allow the organization to excel at the highest level as a true community bank for the Cape Cod region."
This year's honorees will be recognized at THE MOST POWERFUL WOMEN IN BANKING gala which takes place Oct. 5, 2023, at The Glasshouse in New York City. The gala is part of a week-long celebration which includes THE MOST POWERFUL WOMEN IN BANKING conference, which is open to all, on October 3-4th.