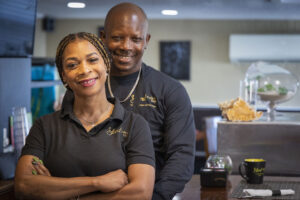 Patrick and Erica Sterling have created a true culinary escape with Island Café and Grill in Hyannis.
Originally from Jamaica, their menu incorporates their island heritage with locally sourced ingredients to create unique and delicious dishes. Island Café and Grill, 251 Iyannough Road, is open from 7 a.m. to 6 p.m. Tuesday to Sunday.
The most popular menu items include:
Coconut French Toast: Beautifully sliced toast with a touch of crispy coconut and a side of berry compote.
The Island Burger: Juicy burger with bacon and avocado.
The Fried Chicken: Crispy, generous portion of chicken with rice and peas, veggies and fried golden plantains.
Patrick and Erica opened Island Café and Grill in 2017 after years of working in the hospitality industry across the Cape – the Wequassett Resort and Golf Club, Riverway Lobster House and Schooners Restaurant to name a few.
During the pandemic, the couple persevered by creating a to-go hot dog window and joining delivery services, such as DoorDash, Uber Eats and Grubhub. The pandemic also prepared them for their next challenge: Operating a restaurant in front of the on-going construction at Iyannough and Yarmouth roads.
In 2021, Island Café & Grill was recognized by the Hyannis Area Chamber of Commerce as the Small Business of the Year for their commitment and innovation during the pandemic.
Want to learn more about Island Café & Grill? Follow them at these links:
Facebook | Instagram | Website