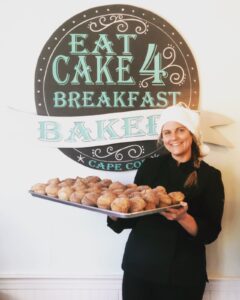 Danielle Nettleton owns Eat Cake for Breakfast in Brewster. Danielle's journey to pastry chef and business owner didn't start out in the kitchen.
Danielle, a Bucknell University graduate, started her career in human resources and outdoor education in Colorado. Though she loved the great skiing and outdoors, she returned to the East Coast to find her "true passion." On a whim, Danielle answered an ad for a night-time baker. She loved it, and never looked back.
After working on the Cape and at Versailles Patisserie in Connecticut, she studied classic French pastries at Le Cordon Blue in Paris. Outside the classroom, Danielle gained valuable production experience working for a restaurant supply company. In 2013, she returned to the Cape.
In 2015, Danielle opened Eat Cake for Breakfast, where she creates creating pastries every foodie can enjoy. Danielle and her team – including her mom, Cindy – believe in using the highest quality ingredients to create fun and delicious pastries. In 2020, Danielle expanded the bakery at its new location, 26 Wampum Drive in Brewster.
Want to learn more about Eat Cake for Breakfast? Follow them at these links:
Website | Facebook | Instagram