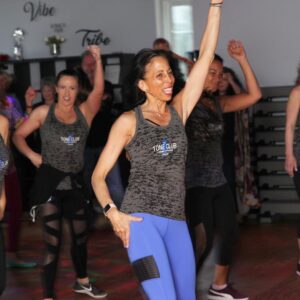 Toni Migliore of The Tone Club has a passion for fitness. Her love of all things fitness started early when she'd work out at the gym with her older brothers. Toni got into group exercise in the 1990s and was a member of the Bally's Fit Dance Team in Tampa, Florida.
In 2018, Toni and her husband, Mike, "took a leap of faith" and opened The Tone Club, a night-club style fitness studio on the Cape. Understanding that fitness can be a daunting and difficult task for many, Toni wanted to create a fun and welcoming "club." Toni's philosophy of having fun and making each class feel more like a party than a workout was her inspiration in creating The Tone Club. Her unique style of creating a positive, safe, yet fun atmosphere, is not only what draws people to her high-energy classes, but keeps them coming back for more.
The Tone Club offers group exercise classes, small group training, and personal training. Classes feature:
Retro Step: Take yourself back to the 1980s with this step and strength class. No hard step choreography, and no step experience required.
Lit: Come "light" up the dance floor with this high energy cardio dance class. Experience the fun and forget the workout with the latest Top 40 music and easy to follow dance moves.
Singe: This is a low impact class set to upbeat music designed to work your core, abs, and lower back. Utilizing free weights, body weight, and the stability ball, this class will challenge you to your "core."
Torch: Based on the Tabata format, this is one of the most effective types of high-intensity trainings.
Meet Me At The Barre: Classes begin with a warmup focusing on postural strength and alignment, followed by a series of upper body exercises using light weights. The Ballet Barre is used to sculpt the lower body, abs, and for flexibility training.
Toni has certifications for AFAA Group Exercise, Matrix Small Group Training, AFAA Group Resistance/Circuit Training, Pound®, Balancepoint Barre, Barre Variations, Spinning®, Spartan Strong, Kickboxing, and CPR/AED. She is a licensed Zumba® and Zumba® Step Instructor and is a Beachbody Coach Certified in Insanity® and Cize®.
Toni has competed in bodybuilding competitions, 5K runs, and The Ride for Missing and Exploited Children, where she biked more than 100 miles in 8 hours. Toni enjoys spending time at the beach with her husband, three children, and their dog.
Want to learn more about The Tone Club? Follow them at these links:
Website | Facebook | Instagram