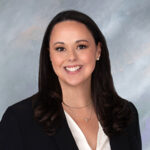 Kate DiMascolo has been appointed to the position of Investment Executive by Cape Cod Financial Services located at The Cooperative Bank of Cape Cod.
In this role, Kate will provide personalized investment and wealth management solutions to individuals and businesses.
Kate, a financial and wealth management professional with more than 10 years of experience, joins CCFS from Merrill Lynch, where she most recently served as a Financial Advisor.
"Kate's financial planning and investment expertise, combined with a customer-centric approach, is a perfect fit for our clients," said Lisa Oliver, Chair, President and CEO of The Cooperative Bank of Cape Cod. "We welcome Kate and look forward to the strong knowledge of financial planning, investment strategies and wealth management that she will offer our clients to build and sustain long-term, mutually beneficial relationships."
Kate, of Sandwich, is actively involved in community affairs, including New England Donor Services, an organ donation advocacy group, and The Family Table Collaborative, a Cape-based profit dedicated to ending hunger and improving nutritional security in the region. She is a graduate of Salve Regina University.
"I welcome the opportunity to join an institution that is committed to the success of its customers and business clients and is a strong philanthropic partner to nonprofit organizations in the region," said Kate. "I'm eager to meet clients to discuss ways in which we can maximize investment and portfolio performance to create growth-oriented financial strategies for a secure future."
Investment and insurance products and services are offered through Osaic Institutions, Inc., Member FINRA/SIPC. Cape Cod Financial Services is a trade name of The Cooperative Bank of Cape Cod. Osaic Institutions and the Bank are not affiliated. Products and services made available through Osaic Institutions are not insured by the FDIC or any other agency of the United States and are not deposits or obligations of nor guaranteed or insured by any bank or bank affiliate. These products are subject to investment risk, including the possible loss of value.