In celebration of National Small Business Month, we'll be shining a spotlight on some of our local small business clients. What do they do, what challenges do they face, what gets them most excited and what are the risks they've taken? Today, we caught up Eric Hart, owner of The Cape Cinema. Here's what we learned about running this cultural treasure.
What is your business?
We are an independently run, single screen movie theater, which also presents many other events including live music, live broadcasts of the Metropolitan Opera, Bolshoi Ballet from Russia and National Theater from London. We also have hosted many community organizations' fundraising events.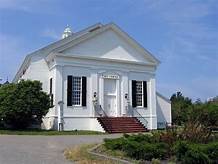 How and when did you get started?
The 1930 building was founded by Edna Tweeny and Raymond Moore just a couple years after the Cape Playhouse. The exterior of the cinema often confuses new guests who ask us how long the building has been a theater and when it stopped being a church. The funny thing is that the building has always been a cinema but was designed by Alfred Easton Poor who modeled it after the South Congregational Church located in Centerville.
The Cape Cinema Group as we know it today, which in an S Corp, was formed in 1985. I worked for the previous owner for three years before I bought the business from him.
What's the most challenging part of running your business?
The most challenging part of running this business is keeping up with the ever-changing film exhibition business and trying to integrate these changes successfully into the day-to-day operation of the Cape Cinema.
What's the most rewarding part?
The most rewarding part of the business is the overwhelmingly positive response to what the Cinema presents from my customers. Transforming the Movie Theater from a strictly summer movie business into a year-round, multipurpose visual exhibition and performing arts center.
Are there any community partnerships or initiatives you'd like people to know about?
We have participated in and co-sponsored many fundraising events at the Cinema. Just a few of the organizations include The Cape Cod Museum of Art, Association for the Preservation of Cape Cod, The Cape Cod Museum of Natural History, Housing Assistance Cooperation, WE CAN, ASPCA Cape Cod, and Mass. Audubon.
Any fun facts about the Cape Cinema you'd like to share?
The Cape Cinema was the first movie theater in the World to screen the Wizard of Oz to a paid audience at 4:30 pm Aug 11, 1939. We celebrate this event every year on that date with a screening of the Movie in 35 mm with a guest singer performing "Over the Rainbow".
Want to learn more about the Cape Cinema? Follow them at these links:
Website – https://www.capecinema.com/
Facebook – https://www.facebook.com/capecinema
Instagram – https://www.instagram.com/cape_cinema/
Twitter – https://twitter.com/capecinema