In celebration of National Small Business Month, we're shining a spotlight on some of our local small business clients. What do they do, what challenges do they face, what gets them most excited and what are the risks they've taken? Today, we caught up Susan and Kevin Sullivan, owners of Ready Rooter. Here's what we learned about starting and running a successful septic and plumbing service company.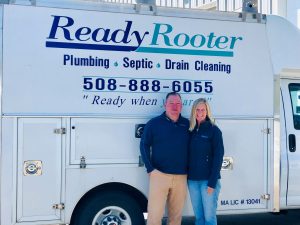 What is your business?
Ready Rooter, Inc. is a Cape Cod-based business offering services in plumbing, septic, heating and drain cleaning from Marshfield to Orleans.
When was your business formed?
Our first day in business was July 1, 1999.
How did you get started?
After selling a septic business in Atlanta, we wanted to return to Cape Cod to raise our family. We grew up in the mid-Cape area and were excited to live and work here. The proceeds from the Atlanta company's sale enabled us to start Ready Rooter, Inc. Kevin is a licensed master plumber and had several years of experience in the septic and drain cleaning industry, so we created a business that specializes in plumbing, septic, drain cleaning and heating residential and commercial services.
What's the most challenging part of running your business?
Our company motto is "Ready when you are!". A business that offers services 24/7 definitely requires a strong set of time management skills. Our days have to be a good balance between work and family to care for our clients, as well as our four kids.
What's the most rewarding part?
By far, the most rewarding part of running Ready Rooter, Inc. is the great group of employees we have! Some of our people have been with us since almost the beginning of our 20 year-old business. One example is our client care representative, Virginia, who joined us in 2002 and is definitely known to our clients as the "voice of Ready Rooter". She answers most calls, always determined to resolve the issue. When she answers the phone with "It's a great day at Ready Rooter, this is Virginia", the client knows they're in great hands!
All of our employees at Ready Rooter give so much each day, we feel grateful to have them with us!
What's the biggest risk you took in your business?
The biggest business risk we took was investing in our first septic pump truck. A pump truck's price tag rivals that of a small home, so we were hopeful that our new business would be welcomed into the well-established Cape Cod septic service market. The risk paid off and the community response encouraged us to purchase a few more pump trucks!
Are there any community partnerships or initiatives you'd like people to know about?
Ready Rooter, Inc. is grateful for our twenty years of support from the Cape Cod community and always tries to give back in small and large ways. Some causes that we annually contribute to are the YMCA, The Thanksgiving Sandwich 5k which benefits Sandwich and Bourne food pantries, various youth sports organizations, the Sandwich Police Association, Housing Assistance Corporation and Habitat for Humanity to name a few. We have been quite involved in Sandwich Little League, with Kevin serving on the board of directors for ten years and currently serving as its president. Susan has worked with the Sandwich High School Athletics Boosters for the past five years. These are just a few ways that we enjoy working with our neighbors to better the community we all call home.
Any fun facts about Ready Rooter that you'd like to share?
Our company colors were inspired by the beautiful blue and green colors of the ocean.
Want to learn more about Ready Rooter? Follow them at these links:
Website – https://www.readyrooter.com
Facebook – https://www.facebook.com/readyrooterinc/
Instagram – https://www.instagram.com/readyrooterinc/