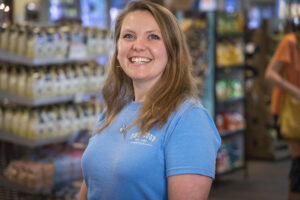 Considered Cotuit's "best kept secret," the Cotuit Fresh Market has been serving the neighborhood and Cape Cod since the 1800s. Today, the market is lovingly cared for by owner Megan Burdick.
When Megan took her first step into the market, it felt like home. In 2009, she started working in the kitchen before becoming the store manager for several years. Megan officially took over the market in 2019.
Cotuit Fresh Market, 737 Main St., is open from 7 a.m. to 7 p.m. daily. The market features Boar's Head Deli products, daily breakfast, lunch and dinner specials, fresh baked goods, fresh produce, dairy products, beer and wine. Cotuit Fresh Market also has a full catering menu, as well.
If you're looking for a perfect Cape gift, the store also stocks a generous variety of items crafted by local artisans.
In Summer 2022, Cotuit Fresh Market started managing the "Kettleers Kitchen" for the Cotuit Kettleers and Cotuit Athletic Association. A favorite sub among the players is the hearty Cotuit Special – turkey, ham, roast beef, provolone and Swiss on a sub roll.
While Cotuit Fresh Market is a year-round store, Megan also operates the Popponesset Fresh Market, 259 Shore Drive, New Seabury, from Memorial Day to Labor Day.
Want to learn more about Cotuit Fresh Market? Follow them at these links:
Facebook | Instagram | Website