In celebration of National Small Business Month, we'll be shining a spotlight on some of our local small business clients. What do they do, what challenges do they face, what gets them most excited and what are the risks they've taken? Today, we caught up Jonathan Watkins, owner of JFW Photography.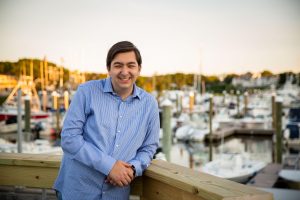 What is your business?
I own and operate JFW Photography; Cape Cod's Leading Real Estate Photography company.
How and when did you get started?
The company was officially formed in 2013, although I was photographing prior, but without the company and without much direction. My company started out of passion for photography. As a young child, I can remember always having an interest in cameras and taking photos. When I was 6 or 7, my family took a trip to Florida, where I spent several rolls of film photographing everything I could. I've loved it since I can remember. Shooting as an amateur when I was a child transformed into a full-blown career in 2013 when I was still in high school. After shooting portraits and weddings, I quickly became burnt out and wanted to take the company in a different direction. A direction that focused on Real Estate and Architecture.
What's the most challenging part of running your business?
The most challenging part of running my business would be when I was first trying to get new clients. Real Estate Agents can be picky about who they use, and overcoming the initial fear to introduce myself to them took a lot of time and planning. Nowadays, the most challenging part would be trying to have work-life balance. On average, we photograph 8-12 properties per day, for many different companies, and then there's the editing involved and also other production projects that I'm called for. Trying to find the time to relax and spend it doing something else has proven to be difficult.
What's the most rewarding part?
The most rewarding part of this business and industry is hearing every day how my clients' listings are selling the next day or within the week due to my images helping them market the property. It's a nice feeling knowing that I can aid in someone's home sale. It is equally as rewarding hearing that the homeowners are in love with the images and will cherish them as a remembrance of their (a lot of times) first home.
What's the biggest risk you took in your business?
The biggest risk I took was deciding to do this full-time and bringing on a team. It's nerve racking letting go of a part of your company and responsibilities and handing them off to someone else. It has been the best risk I have ever taken, as we have been able to grow bigger and bigger with each week.
Want to learn more about JFW Photography? Follow them at these links:
Website – https://jfwphotos.com/
Facebook – https://www.facebook.com/JFWPhotography
Instagram – https://www.instagram.com/jfwphotos/
Linkedin – https://www.linkedin.com/company/jfw-photography/about/