In celebration of National Small Business Month, we'll be shining a spotlight on some of our local small business clients. What do they do, what challenges do they face, what gets them most excited and what are the risks they've taken? Today, we caught up Lisa Wilson, owner Barnstable Farm & Pet.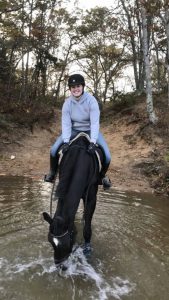 What is your business?
Barnstable Farm & Pet
When was your business formed?
My corporation was formed six months ago, but the store has been a feed supply business for over thirty years.
How did you get started?
I started working as the manager of the previous corporation for the last four years, helping the business build inventory and an amazing customer base, as well as the knowledge to support them with their animals. It was only perfect to purchase the business to continue on.
What's the most challenging part of running your business?
The most challenging part is probably inventory shortage. Since we have perishable product, it is all about timing and keeping the freshest product in and on time. We get a good amount of our feed from Canada so scheduling these with good timing is key, but say a truck breaks down or the hay is too wet to bring, it becomes a problem.
What's the most rewarding part?
The most rewarding part is helping customers feed their animals in the best and most economical way. All of us here love our job and immerse ourselves in the knowledge of what's good and what's not for your animals, so being able to pass that on in a positive way is very rewarding.
What's the biggest risk you took in your business?
The biggest risk I took was the unknown, being a new business owner. When the option came to buy this business last year, I felt more than prepared. I had known this place for four years and felt like I knew it like the back of my hand. When ownership finally came, new things came up that had never occurred to me. I am so fortunate to have such a great backing behind me to ask advice of and it has been hugely helpful.
Are there any community partnerships or ways you give back that you'd like mentioned?
We help with a few local rescues, such as Mills River Rescue, and NEESA, as well as local riding clubs such as Cape Community Equestrian Association. I love helping local programs get going and maintain in the best way that we can.
Want to learn more about Barnstable Farm & Pet? Follow them at these links:
Website – http://www.barnstablefarmandpetsupplies.com/
Facebook – https://www.facebook.com/Barnstable-Farm-and-Pet-Supplies-344963772256379/
Instagram – https://www.instagram.com/bfarmandpet/