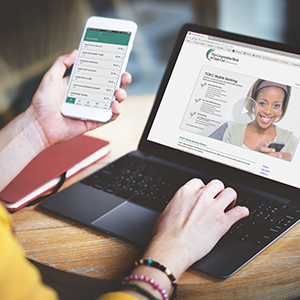 Woman using The Cooperative Bank of Cape Cod Online and Mobile BankingLife is busy and, at times, stressful. We're all trying to find ways to save time and skip the headaches. We get it. The Coop has been around for nearly 100 years, but we're not stuck in the past. Our banking services have changed to meet you where you are. Below are four tips to help make your banking life a bit easier:
Pay Faster, Easier at the Store
Mobile wallets are most popularly Apple Pay, Samsung Pay, and Google Pay. They are one of the most secure ways to make purchases because your debit card number is never actually used in the purchase. Additionally, Mobile Wallets utilize NFC technology allowing you to complete your transactions with a tap of your mobile device to the card reader. They are an easy, secure, and contactless way to pay for your essentials at the store.
Send Money Fast
Zelle® is a fast, safe, and easy way to send and request money using your mobile banking app or online banking account. Funds are sent directly to the recipient's account in a matter of minutes(1), and all you need is the recipient's email address or U.S. mobile phone number. To start using Zelle, navigate to Bill Pay within your Online Banking. Click here for more FAQs on Zelle and video tutorial.
There's an App for That
The Coop App is our free mobile banking app allows you to securely manage your account anytime, anywhere. You can make check deposits and transfers, view transactions, pay bills through Bill Pay, and more from the comfort and safety of your home or office. If you haven't already, download The Coop App at the App Store or Google Play.
For more helpful tips and information, please check out our Resources page. If you have any questions, please send us a note here or call us at 508.568.3400.
---
You also may be interested in …
(1) Zelle and Zelle related marks are wholly owned by Early Warning Services, LLC and are used herein under license.  Transactions typically occur in minutes when recipient's email address or U.S. mobile number is already enrolled with Zelle.