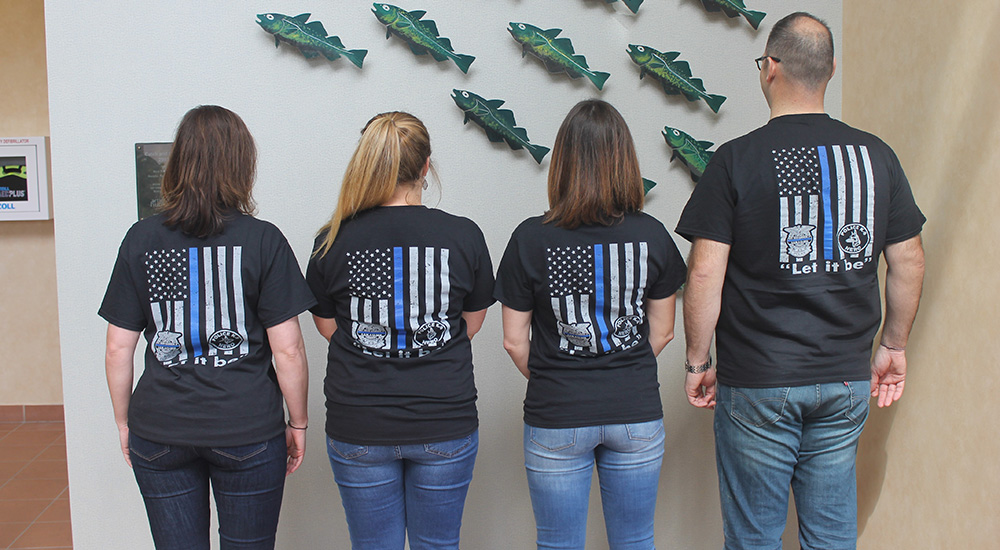 Paying It Forward
In 2009, a group of employees, inspired to raise money for the organizations on the Cape they were most passionate about, created Paying It Forward (formally known as Charity Jeans Day). Our employees are encouraged to "wear denim for a cause" and contribute to a local nonprofit every pay period. Employees choose a different organization for Paying It Forward and contribute a minimum of $5 to wear jeans for the day. Every year, 26 local charities benefit from our employee-driven contributions. And while some organizations rotate through, some are always constant, such as our annual donation drive for Toys for Tots Stuff-a-Bus, and the Salvation Army's Dress A Live Doll.
Employees of the bank have raised thousands of dollars for local charities. Approximately 80% of employees participate in Paying It Forward and, in 2018, the Bank decided to match each Paying It Forward total, doubling the contribution. Here's a list of some of the organizations that have received a donation through Paying It Forward:
A Baby Center
Big Brothers Big Sisters of Cape Cod
Calmer Choice
Cape & Islands K9 Relief Fund
Cape & Islands United Way
Cape & Islands Veterans Outreach Center
Cape Cod Challenger Club
Cape Cod Child Development
Cape Wellness Collaborative
Children's Cove
Chip's House
Falmouth Service Center
Flower Angels USA
Glenna Kohl Fund for Hope
Gosnold on Cape Cod
Habitat for Humanity of Cape Cod
Heroes in Transition
HopeHealth
Independence House
Katelynn's Closet
Lyme Awareness of Cape Cod
MSPCA of Cape Cod
Taylor-Bray Farm Preservation
The Gooseey Fund
The Mic Flick Memorial Fund
WE CAN
YMCA of Cape Cod
Volunteerism
Our employees feel strongly about their commitment to our Cape Cod community and seek ways to give back. We feel a responsibility to assist our neighbors whenever we can, and we always come away feeling that we've benefited as a result.
As an employer, The Coop provides several ways that employees can volunteer.
We annually pay a full day of work to any employee that volunteers for the United Way Day of Caring. In the past, we've participated in clean up days for the Boys & Girls Club of Cape Cod in Mashpee, built new picnic tables and archery field and the YMCA of Cape Cod in Barnstable, and planted in the spring at Cape Abilities Farm in Dennis.

Employees are able to sign up and, using the funds raised through our Paying It Forward program, shop for the most vulnerable members in our community through the Salvation Army's Dress a Live Doll, and Toys for Tots Stuff-a-Bus.

Every month, dozens of employees deliver food to our home-bound seniors through the Bank's partnership with Meals on Wheels.

Whether it's passing out water during a road race, handing out prizes and giveaways at a music festival, or staffing a table at a fundraiser, sponsorships through our Corporate Giving allows our employees to volunteer at many events across the Cape.
Beyond volunteer opportunities provided through the Bank, our colleagues freely give of their own time by serving on boards and committees of local non-profits, helping at the schools their kids attend, donating to fundraisers, and offering their unique talents to help their neighbors and friends.
We're proud of the team at The Coop! Please allow us to brag by sharing a few of the organizations that have benefitted from our colleagues' volunteerism:
Agway of Cape Cod Charitable Foundation
Arts Foundation of Cape Cod
Big Brothers Big Sisters of Cape Cod
Boys & Girls Club of Cape Cod
Calmer Choice
Cape Abilities
Cape & Islands United Way
Cap Cod Chamber of Commerce
Cape Cod Children's Museum
Cape Cod Young Professionals
Cranberry Farms
Dennis Port Revitalization
Falmouth Road Race
Habitat for Humanity of Cape Cod
Housing Assistance Corporation
JFK Hyannis Museum Foundation
Latham Centers
Lower Cape Outreach Council
Meals on Wheels
Osterville Village Library
The Cape Cod Foundation
YMCA of Cape Cod