In celebration of National Small Business Month, we're shining a spotlight on some of our local small business clients. What do they do, what challenges do they face, what gets them most excited and what are the risks they've taken? Today, we caught up Margot Kender, owner of Kender & Sisters Kitchen + Coffee / Firestarter Pizza. Here's what we learned about starting and running a small restaurant on the Cape.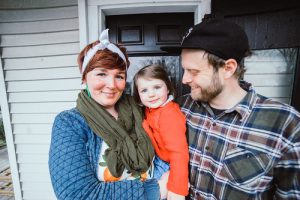 What is your business?
Kender & Sisters Kitchen + Coffee / Firestarter Pizza
When was your business formed?
May 2018
How did you get started?
My husband and I have worked in the restaurant industry for fifteen-plus years. About five years ago we moved back to Cape Cod. After struggling to find sustainable year-round employment in the restaurant industry we started hatching a plan to open our own business. I had always dreamed of having my own cafe and Geoff had taken an interest in pizza. We employed a business plan that would meet both of our aspirations. We were able to find a local investor who believed in our product and allowed us to get off the ground.
What's the most challenging part of running your business?
Finding help! So far we've had very little luck with finding reliable workers. Part of our business plan was to provide year-round employment to other restaurant workers, thus far we've had little success.
What's the most rewarding part?
Making a consistent product day in and day out that people have come to enjoy and appreciate.
What's the biggest risk you took in your business?
We began with little to no money in the bank, so we put everything on the line when we started the business. It will take time, but we're hopeful we'll be profitable within five years.
Are there any community partnerships or initiatives you'd like to share?
As we are still getting our footing we have yet to build these partnerships but we look forward to working on this in year two. We are hoping to join forces with Cape Abilities in the near future.
Any fun facts about the business?
Our daughter, Blythe, is our unofficial mascot and head taste-tester. You're sure to see her in the shop on the weekends when she's helping out behind the counter.
Want to learn more about Kender & Sisters and Firestarter Pizza? Follow them at these links:
Website – https://www.kendersisters.com/
Facebook – https://www.facebook.com/kendersisters/ and https://www.facebook.com/firestarterpizza/
Instagram – https://www.instagram.com/kendersisters/ and https://www.facebook.com/firestarterpizza/