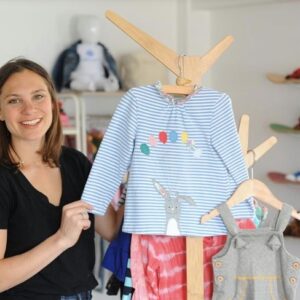 Erica Dunn is co-owner of The Pheasant and Littlenecks, both along historic 6A in Dennis.
Erica runs The Pheasant, formerly The Red Pheasant, with her husband, Adam. They bought the restaurant in 2018 from long-time owners, Bill and Denise Atwood. Erica and Adam renovated the more than 250-year-old property, fixing a key fixture: the sliding barn doors to allow them to close off the garden room for private events.
At The Pheasant, they work closely with local farmers and fishermen to source seasonal ingredients to create dynamic and bold flavors and made-from-scratch menus. The style of service at The Pheasant can be best described as casual fine dining: refined and inventive food, with a relaxed attitude, according to their website.
Erica also co-owns Littlenecks with Margaret Hill. After having her first child, Erica realized how quickly children out-grow clothing. To save on costs, she turned to buying resale clothes. But she noticed something: Not many options for shopping.
Tapping into their love for vintage and a desire to shop more sustainably, Erica and Margaret wanted to find a way to offer a collection of mom-approved hand-me-downs that are accessible and affordable. That's when they created Littlenecks.
Littlenecks is a new and pre-loved, high-end children's boutique, carrying an array of high-end children's items from clothing and shoes to gifts. The inventory is always changing, based on seasonality.
Erica grew up in Millburn, New Jersey, and went to the University of Vermont. In 2014, Erica and Adam married at the Cape Cod Museum of Art. Adam spent his summers vacationing with family on the Cape, so when they started thinking about starting their own family, Cape Cod was a natural fit. The couple have two children, Leo and Charlie.
Want to learn more about Littlenecks? Follow them at these links:
Website | Facebook | Instagram
Want to learn more about The Pheasant? Follow them at these links:
Website | Facebook | Instagram