We've been through a lot these past months. Through it all, we've worked with clients to protect paychecks and cover expenses and keep Cape Codders safe in their homes. We understand the road back to "normal" will be a long one. But as the state begins to reopen, we're ready. We'll help you reCOOP.
---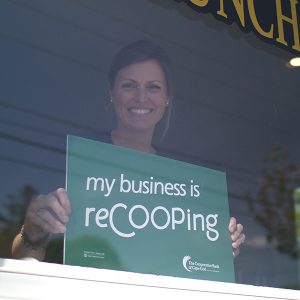 JOIN US AS WE RECOOP ON THE CAPE
What does "ReCOOPing on the Cape" mean? Our goal is to lead a rallying cry to recognize what we have all been through and look optimistically to the future. Our team is ready to help clients reCOOP their lives, their businesses, and life on the Cape. You'll see us out and about wearing new green T-shirts because we're proud to be reCOOPing with you.
For businesses, we have reCOOPing signs available for businesses to download and print to put in your windows. Be a part of the efforts on the Cape! Click on either the white or green sign below.
Many of you have seen our team wearing new green T-shirts that say "reCOOPing on the Cape." If you'd like to have one, please let us know via our online form! We're asking for a donation – of any size – to the Cape Cod Resilience Fund. The money from this fund is going directly to Cape businesses who need our help now. And we'll match what you give.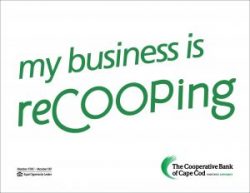 Click to download white ReCOOPing sign to display at your business
Click to download green ReCOOPing sign to display at your business
---
How We've Helped People ReCOOP
We've worked with more than 300 households to develop tailored plans to keep them safe at home through our mortgage relief programs. If you are experiencing financial challenges and need mortgage assistance, learn more: https://www.thecooperativebankofcapecod.com/covid-19-mortgage/
More than 800 business owners were able to retain more than 12,000 employees through our participation in the SBA's Paycheck Protection Program. Get details on the SBA Payroll Protection Loan or other options to help your business: https://www.thecooperativebankofcapecod.com/covid-19-information-for-businesses/
We've donated $200,000 to our local philanthropic community to reach those who need help the most. Apply for a micro-grant to help your nonprofit: https://www.thecooperativebankofcapecod.com/covid-19-information-for-nonprofits/
---
If you've put off doing that home project, planning for retirement, or exploring your account options, now is the time to let us help you get back on track with the personalized service we're known for. If you own a business, think of this as a time to reCOOP and to re-establish your success. We're ready to help with loans, flexible business-focused accounts, and the personalized service you need right now. It's time to reCOOP — and we're here to help. Contact a Branch Manager – Small Business Specialist or a Commercial Relationship Manager today to get started.
---