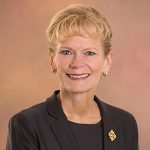 I began this journey with you just over a year ago. I pledged to do a lot of listening and put the plans in place to develop a sustainable revenue model. I'm proud to say that through the change experienced this year, we ended our fiscal year at March 31, 2018 with record-breaking net income of $4.6 million. This is a 128% increase year over year. We ended the year with $49 million in net loan growth and $790 million in deposits, resulting in total capital of $82 million and a tangible capital ratio of 9.24%. All this was accomplished by knowing our clients and offering smart banking solutions and sound advice, managing our balance sheet, and supporting our Cape communities. And we're just getting started.

The continued success of our business also provides us the opportunity to further our social responsibility through community service and charitable giving. I'm delighted to announce the formation of The Cooperative Bank of Cape Cod Charitable Foundation Trust, with a mission to support Cape-based organizations dedicated to enhancing the communities where we live and work.
I've learned the best thing about The Coop is our people. The folks who work here truly care about our customers, our communities, and this bank. They understand the important role we play in the Cape's economy…and they appreciate and embrace our community bank mission. I'm so proud to be associated with the team here at The Coop.
This has been a year of opportunistic senior leadership change. We've added Peter Rice our Chief Commercial Banking Officer, and Mark Linehan, our Chief Financial Officer. We also welcomed six new Corporators to our roster of 29 bringing us to 35 strong business and civic minded individuals who provide industry, economic and geographic guidance to us. The new members are John Allen, Executive Director, John F. Kennedy Hyannis Museum Foundation; Gene Guill, Managing Partner, GPS Risk Management Advisors, LLP; Beth Marcus, Business Manager and Owner of Cape Cod Beer; Rob McPhee, President, McPhee Associates of Cape Cod; Aaron Polhemus, President & CEO, Polhemus Savery DaSilva; and Anne Van Vleck, Chief Development Officer, Housing Assistance Corporation.
As my first year comes to a close, I'm grateful for your warm reception and look forward to what lies ahead. I'm excited for the future and look forward to leading The Coop Team as we continue our community banking mission. Thanks for your support.