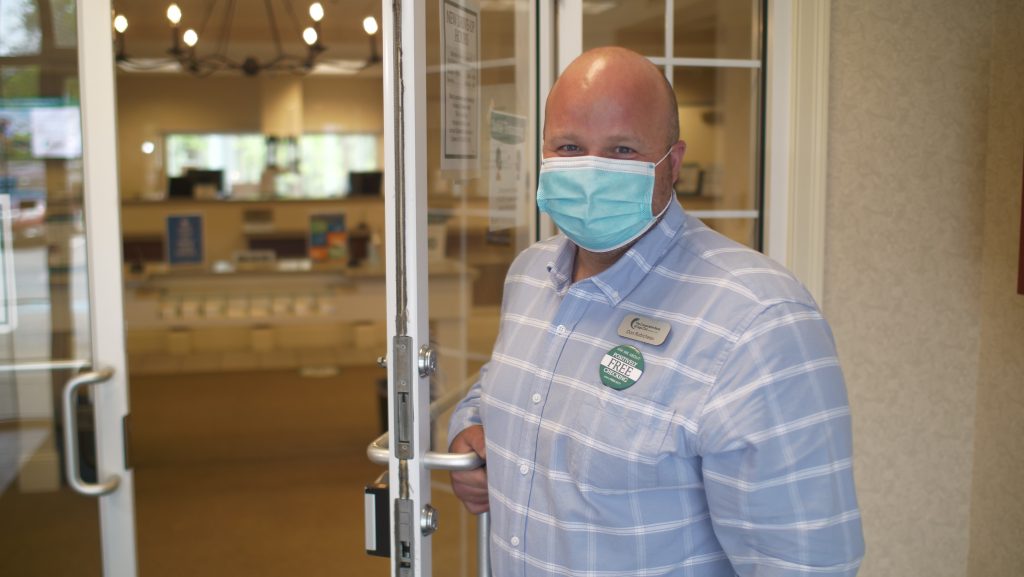 You've missed coming into our lobbies, and we've missed seeing you, too. Starting Monday, July 13, our lobbies will open with new hours for in-person transactions. We're excited to open our lobbies and we're being cautious and following the state's health and safety guidelines to keep everyone safe. We are certainly looking forward to seeing you but if you're feeling ill, been exposed to someone with COVID-19 or believe you may have been exposed to COVID-19, we ask that you do not come in to our lobbies until it is safe for you to bank with us in person. Here is an update about what to expect when you visit us.
Our New Hours:
Our lobbies will be open from 9 a.m. to noon Monday through Saturday, starting July 13. Our drive-up hours will remain the same. For our full listing of locations and hours, please visit our website.
What You Can Expect:
We'll greet you at the door! Our greeters will ensure that we're following maximum occupancy regulations to maintain appropriate social distancing in our branches. If our lobbies are at their maximum capacity when you arrive, our greeter will ask you to wait in your car, and if you provide them with your cellphone number, they'll call you when it's your turn to enter the lobby.
If you need a withdrawal slip or deposit ticket, please just ask our greeter. And if you need a pen, we'll give you a new one that you can take with you.
Once inside the lobby, please follow the markings on the floor that will ensure we all stay socially distant and safe.
At the teller window and inside offices, we've installed plexiglass so that we will still be able to see you (and you us!) but everyone will be protected.
Our employees will wear face coverings, and we ask you to please do the same to enter the branch.
For a preview of what to expect in our branches, we put together this video:
Health and Safety:
To safeguard our employees and clients, cleaning and sanitizing protocols will occur after each transaction. We're paying extra attention to high traffic areas, such as drive-up canisters and ATMs, too. Before coming to work, all of our employees answer a questionnaire to ensure they are healthy and not potentially exposing co-workers or clients to the virus. If they have any symptoms or have traveled to a known "hot-spot," they will stay home.
What's Next:
As we have all experienced with the pandemic, this is a fluid situation and we will continue to follow state and local recommendations, follow the Governor's phased plans, and adjust our branch hours and safety protocols accordingly. We will keep you updated via email, our social media channels, and website. As always, we are available at 508.568.3400 and online to answer any questions you may have.
We have been continuously working to serve clients throughout the pandemic, and we stand ready to serve your needs. Our Mortgage Loan Originators are ready to help you refinance, buy a new home, or finance renovations. Our Commercial Relationship Managers, Branch Managers – Small Business Specialists, and Government Banking Officers are all available to help you with whatever you need – and they'll meet you where and how it's most convenient.
From all of us at The Coop, thank you for your understanding and support these past months! We appreciate it, and we look forward to seeing you again in our lobbies.