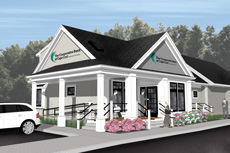 The Cooperative Bank of Cape Cod will open the doors to a new full-service branch in North Falmouth on Monday, April 15. The bank purchased the building at 660 North Falmouth Highway in June of 2012 and recently completed extensive renovations that began last summer. A special ribbon cutting ceremony with local businesses and town officials will be held on Tuesday, April 30 at 7:30 AM.
The 1,500 square-foot branch will offer a full range of consumer and business banking services, as well as residential and commercial lending. The bank will also feature a drive-up teller window and a full-service 24-hour drive-up ATM. The branch will be the eighth location for The Cooperative Bank of Cape Cod and further demonstrates the bank's commitment to Falmouth. In 2012, The Cooperative Bank of Cape Cod opened a Loan and Business Development Center at 649 Main Street. Currently, the bank is working with the Falmouth Planning Board to develop a second full-service Falmouth branch on the corner of Route 28 (Davis Straits) and Worcester Court.
"We're very excited about our continued growth in Falmouth," said Joel Crowell, President of The Cooperative Bank of Cape Cod. "Between the Main Street location we opened last April, and this new branch in North Falmouth, we're realizing our goal of bringing community banking back to Falmouth. We look forward to partnering with and supporting the Falmouth communities."
The bank will hire up to six full-time employees to staff the new branch. Doors will open on April 15 and a grand opening celebration is planned for the week of May 6 through May 11, details of which will be announced soon.
The Cooperative Bank of Cape Cod is an independent, local, mutual community bank with over $700 million in assets. Established In 1921, the bank celebrated its milestone 90th Anniversary in 2011. The bank is headquartered in Hyannis with branches on Route 6A in Yarmouth Port, East Dennis and West Barnstable; in Sandwich at 275 Cotuit Road; in Hyannis at 695 Attucks Lane in Independence Park; in East Harwich at 1470 Orleans Road/Route 39; in Falmouth at 660 North Falmouth Highway (opening April 15, 2013); and a satellite branch at 649 Main Street. For more information please visit www.mycapecodbank.com, www.facebook.com/mycapecodbank, or call 508.568.3400.