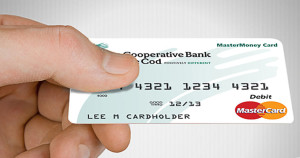 The Cooperative Bank of Cape Cod announced that it is now offering instant issue debit cards, becoming the first local community bank to offer this unique convenience to its customers.
With this innovative technology, customers who walk into a branch and open a checking account will walk out that day with their debit card. Additionally, customers who lose their debit card or forget their PIN can simply stop by any local branch and get a replacement card or reset their PIN. Instant issue debit cards also provide increased fraud protection and security – cards and PINs no longer need to be issued through the mail.
The debit cards are available at any of the bank's six full service branches and offer a choice of four beautiful Cape Cod landmarks . Options include Mayflower Beach, Herring River, Nobska Light, and the Bass Hole Boardwalk. Customers can also choose the standard bank option.
"It's all about offering our customers access, convenience and a positively different banking experience", said Joel Crowell, President of The Cooperative Bank of Cape Cod. "This new technology is another example of how we offer all of the benefits of larger, national banks with the personal touch and local decision making that Cape Codders expect from a community bank."