Five additional staff members also appointed as branch prepares for September opening.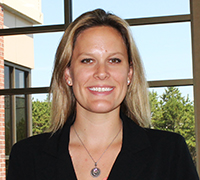 The Cooperative Bank of Cape Cod announced that Savannah Stoelzel has been appointed Branch Manager of the bank's newest location in Marstons Mills. Five other appointments were also announced as the bank prepares for the opening of its new branch.
Stoelzel comes to The Cooperative Bank of Cape Cod from Citizens Bank in Harwich, where she served as Assistant Branch Manager for the past three years. She is a native of Cape Codder and currently lives in Falmouth.
"Savannah truly understands community banking, and the importance of making decisions at the local level," said Joel Crowell, President of The Cooperative Bank of Cape Cod. "We're very excited about our continued growth on the Cape and look forward to being an active partner in the Marstons Mills community."
With the new branch opening, the Bank is thrilled with the opportunity to create jobs in the community. In addition to Stoelzel, Kristen Mauro of Mashpee, Jennifer Richardson of Centerville and Alicia Rowe-Vincente of Osterville were appointed as tellers and Dominique Beaulieu was appointed Senior Teller. Ashley Karras, who was previously a senior teller at the West Barnstable branch, will transfer to the Marstons Mills branch and assume the position of Teller Manager. Kory Leahy of Marstons Mills was appointed the Customer Service Representative.
"We have a terrific team in place and we're ready to serve the neighboring communities. We're anxious to open our doors and get started" said Crowell.
The bank is currently in the final phase of construction on the branch, located in the Stop & Shop Plaza in Marstons Mills at 3840 Falmouth Road. The new branch follows a branch on Falmouth Main Street that opened in April 2012 and a North Falmouth Branch at 660 North Falmouth Highway that opened in May 2013. The Stop & Shop Plaza is home to a host of local retailers. The branch will offer a full range of consumer and business banking products and services, as well as residential and commercial lending. It will also feature a drive-up teller window and a full-service 24-hour drive-up ATM.