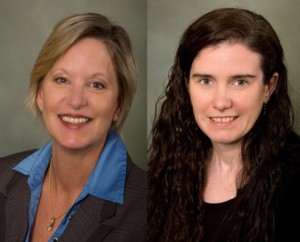 The Cooperative Bank of Cape Cod, has announced that Pamela J. Sears and Kelley Reilly have both earned new designations.  "One of the many ways our Bank is POSITIVELY DIFFERENT is our employees' dedication to continuing education and professional improvement," said Mr. Crowell.  "Pamela and Kelley have worked hard to earn their new titles and are excellent and strong assets to our management team."
Pamela recently completed her course at the American Bankers Association Graduate School of Compliance Risk Management in Atlanta, GA and earned her Certified Regulatory Compliance Manager (CRCM) designation from the Institute of Certified Bankers on October 22, 2011.
Pamela is the Bank's Compliance Administrator and has been with The Cooperative Bank of Cape Cod since July of 2008.  Her career in Banking spans more than 15 years.  Pamela lives in the Town of Dennis with her three teenage children and when she can find the time she enjoys using her private pilot license to fly over the Cape and Islands.  She considers the Cape to be one of the best fishing spots on the planet, loves the smell of fresh salt air and loves finding time to garden.
Kelley has passed the NACHA Accredited ACH Professional Examination and earned her designation as an AAP Professional. NACHA is the National Automated Clearing House Association, a not-for-profit trade association developed to improve and facilitate the processing and delivery system that provides for the distribution and settlements of electronic credits and debits among financial institutions.
Kelley is the Bank's Operations Assistant Manager and has been with the Bank since 1999.  Her career in Banking spans more than 16 years.  Kelley lives in South Yarmouth with her family and keeps busy with her two young daughters.  She loves to read and cook with her girls and loves living on Cape Cod close to family.
The Cooperative Bank of Cape Cod is an independent, local, mutual community bank with over $626 million in assets.     Established In 1921, the Bank recently celebrated its 90th Anniversary.  The Bank is headquartered in Hyannis with branches on Route 6A; in Yarmouth Port, East Dennis and West Barnstable; in Sandwich at 275 Cotuit Road, in Hyannis at 695 Attucks Lane in Independence Park and in East Harwich at 1470 Orleans Road/Route 39.