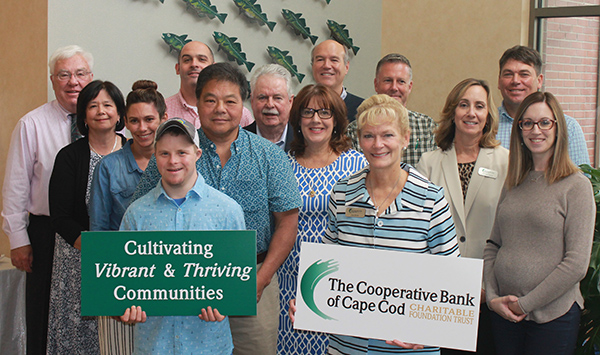 The Cooperative Bank of Cape Cod Charitable Foundation Trust is pleased to announce $25,000 in grants to local organizations across the Cape for their quarterly grant cycle. These grants exemplify the mission of The Coop Foundation to cultivate vibrant and thriving communities by supporting the organizations working to meet the fundamental needs and challenges of our friends and neighbors on the Cape.
"These organizations are positively impacting our communities through their support of families, children, the arts and the environment," said Lisa Oliver, President and CEO of The Cooperative Bank of Cape Cod, and President of The Coop Foundation Board of Trustees.  "It is our pleasure and privilege to support their continued efforts through The Coop Foundation."
From support for people with developmental disabilities to providing affordable childcare to bringing the arts to children from all economic backgrounds, The Coop Foundation is proud to provide funding to the following five organizations:
"The Children's Center is excited to receive funding from The Cooperative Bank of Cape Cod Charitable Foundation Trust," said Abigail Newberry-West, Director of The Children's Center. "This grant will provide support to our children and families through our tuition assistance program. Through the support of community members like The Coop Foundation, we have been able to provide affordable childcare to working families for over 25 years!"
"The generosity of The Coop Foundation allows us to continue the important work that CHAMP Homes has been honored to perform for nearly 30 years.  We are proud to accept this grant and thrilled that The Coop Foundation believes in our mission so strongly," said Adam Burnett, Executive Director of CHAMP Homes.
Launched in December of 2018, The Coop Foundation awards grants to 501(c)(3) organizations that enhance quality of life through programs and initiatives that meet the fundamental needs of people in the communities the bank serves. The Foundation's mission is to cultivate vibrant and thriving communities and seeks to partner with organizations working in the fields of economic development and self-sufficiency, community vitality and sustainability, thriving youth and families, education and learning, and health and human care.
For more information on the Foundation and how to apply for a grant, visit mycapecodbank.com/charitable-giving.