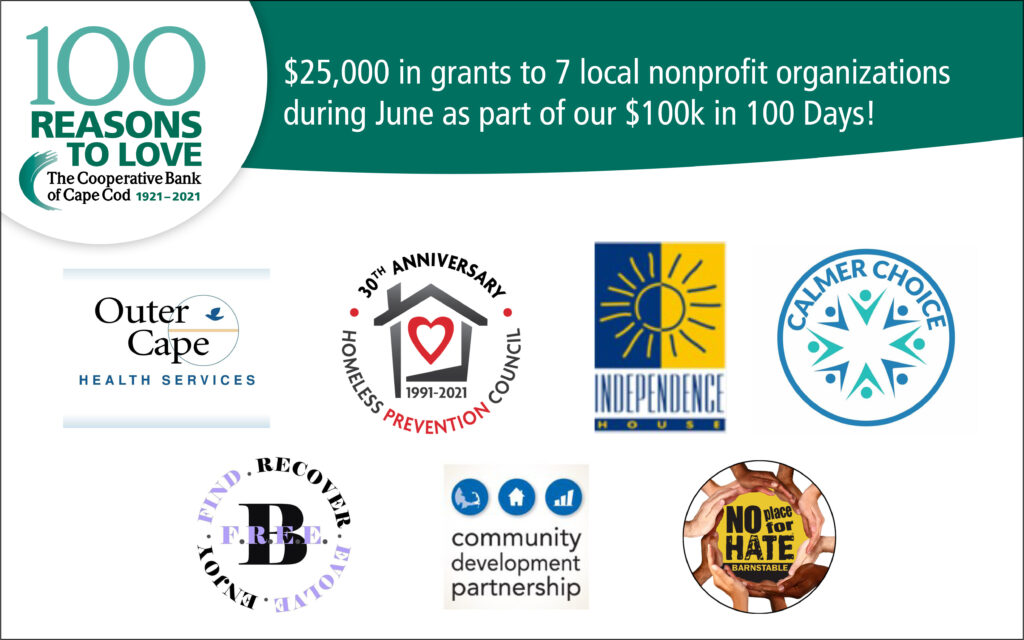 The Cooperative Bank of Cape Cod awarded $25,000 in grants to seven local nonprofit organizations during June as part of its "$100k in 100 Days" initiative to celebrate the bank's centennial.
The Coop, which will officially mark the 100th anniversary milestone on July 19, was established in 1921 as a mutual community bank, serving residents of Cape Cod. Earlier this year, it announced plans to donate $100,000 to local nonprofit organizations in the 100 days leading to the anniversary.
Selected nonprofits must be dedicated to a cause associated with The Coop's four focus areas for 2021: Financial Literacy; Continuing COVID-19 Relief; Housing Initiatives; and Social Justice and Equity.
A $10,000 grant was awarded to Calmer Choice, a Yarmouth-based nonprofit that provides mindful awareness and social-emotional learning programs throughout Cape Cod. During the pandemic, there was a substantial increase in self-reported behavioral health symptoms, with rates nearly doubling in 2020, creating a huge need for mental health therapies, including the ones offered through Calmer Choice. The grant is to support their ongoing work, as well as in honor of Fiona Jensen, the visionary founder of Calmer Choice, who is retiring this year.
Other organizations receiving grant awards include:
"For the past 100 years, The Coop has been committed to providing financial support to nonprofit organizations dedicated to helping the most vulnerable in our community," said Lisa Oliver, President, Chair, and CEO of The Cooperative Bank of Cape Cod. "We look forward to continuing and expanding upon this commitment as we enter our second century of operation."
Additional information can be found at www.mycapecodbank.com/100reasons.