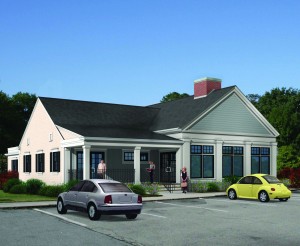 The Cooperative Bank of Cape Cod will cap its 90th anniversary celebrations with significant renovations to its branches in Yarmouth Port and East Dennis.  Renovations, which have already begun in Yarmouth Port and will start next month in Dennis, will bring dramatic upgrades to the two branches.  However, while the upgrades will be dramatic, the impact on customers will be minimal. Both branches will remain open throughout the entire construction process.
The renovations maintain the same footprints, but include a complete overhaul of the two branches.  The end result will be branches that are more inviting and more comfortable, featuring larger lobbies, state-of-the-art technology, customer lounges with a digital communication display, and signature Cape-style front porches. Renovations are expected to be completed by next Memorial Day.
"These are significant transformations that will have a big impact on overall customer experience and comfort. It's all part of creating a positively different banking experience," said John Fulone, Chief Marketing Officer at The Cooperative Bank of Cape Cod.  "We are working very hard to make the renovations as seamless as possible and will keep our customers updated throughout the process through signage, regular correspondence and online updates."
Regular updates on the construction process will be posted online at www.mycapecodbank.com, on Facebook at www.facebook.com/mycapecodbank, and via the bank's Twitter account (@mycapecodbank).  Some of the furniture from the Yarmouth Port branch has already been repurposed, having been donated to the Yarmouth Food Pantry and Historical Society of Old Yarmouth.
The Yarmouth Port branch is located at 121 Main Street (Route 6A).  The East Dennis branch is located at 1591 Main Street.  The Cooperative Bank of Cape Cod also has branches in East Harwich, Hyannis, Sandwich and West Barnstable.