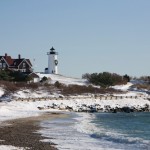 The Cooperative Bank of Cape Cod will open the doors to its new office in Falmouth on Monday, February 13.  Located at 649 Main Street, it is the seventh location for the ninety-year-old, independent community bank.
Initially the office will offer a 24-hour full service ATM, residential and commercial lending services, and a wide range of business services.  The current business plan does not call for bank tellers at this location.  Veteran banking industry executive and long-time Falmouth resident Ron Garcia was recently appointed as the Business Development Officer and will be responsible for introducing the bank's wide range of business banking solutions to the community.
"We've been eyeing Falmouth as a growth area for a long time so it's very exciting to see it come to fruition," stated Joel Crowell, President of The Cooperative Bank of Cape Cod. "We do a great deal of business in Falmouth and we think it's important as a community bank to have a presence in the communities we serve."
A special grand opening event will be held in mid-March, details of which will be announced soon.