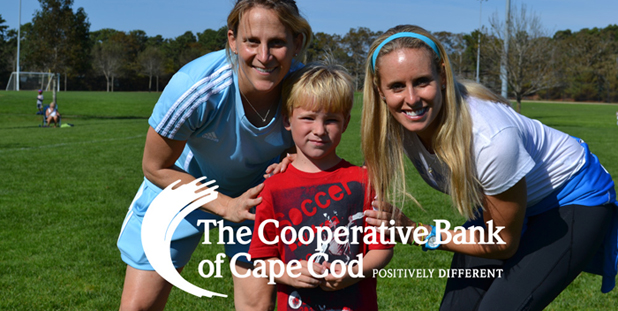 Some of the country's top female soccer stars will descend on the Cape in October for The Cooperative Bank of Cape Cod's third annual "POSITIVELY DIFFERENT Soccer Clinic".  The soccer stars, which include World Champions and Olympic Gold Medalists, will host a clinic at Sandy Pond Field in Yarmouth on Sunday, October 13 for 120 lucky local contest winners.
The stars include Kristine Lilly, widely regarded as one of the most accomplished female soccer players of all-time. Lilly is a two-time Olympic Gold Medalist, an Olympic Silver Medalist, a two-time World Cup Champion, the second all-time leading scorer in U.S. history with 130 goals (second only to Mia Hamm), and a former Captain of the Boston Breakers.  A legendary figure in women's soccer, she was recently in London providing commentary for NBC during their Olympic soccer coverage.
Kids aged six to fourteen years-old can enter to win a spot in the clinic by filling out an entry at any of The Cooperative Bank of Cape Cod branches from now through October 5th.  Twenty winners will be randomly selected at each branch and the winners will be notified by phone.  At the clinic, the soccer stars will offer their soccer expertise and then sign autographs and pose for photos.  The clinic will be at Sandy Pond Field from 12-2 PM and participants should bring their own soccer ball.  Refreshments and autograph cards will be provided by The Cooperative Bank of Cape Cod.
Entries will be accepted at The Cooperative Bank of Cape Cod's nine branches, which include 1591 Main Street, East Dennis;  1470 Orleans Road, East Harwich;   649 Main Street, Falmouth;  695 Attucks Lane, Hyannis;  3840 Falmouth Road, Marstons Mills;  660 North Falmouth Highway, North Falmouth;  275 Cotuit Road, Sandwich;  1121 Main Street, West Barnstable;  and 121 Main Street, Yarmouth Port.