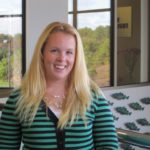 The Cooperative Bank of Cape Cod welcomes Christine Damery, the newest addition to the Bank's Marketing Department.
"We couldn't be more thrilled to have Christine transition from branch banking to our Marketing Department," said John Fulone, Senior Vice President and Chief Strategy & Marketing Officer. "We continue to grow and add quality people to our team, allowing us to continue to support the Cape as a local, community bank."
Damery comes to the Department after previously working at the Bank's West Barnstable Branch at 1121 Route 6A. Starting with The Coop in early 2013, she's worked her way up through the ranks of branch banking while utilizing her degree in Business Marketing to assist with bank promotions and community events, making her well-positioned to advance into the new role.
"I'm looking forward to not only continuing to participate in bank-sponsored community events, but also head-up programs that benefit our community," said Damery. "The Bank has always provided opportunities to get involved, and I'm proud to work for a company that's truly positively different."
A graduate of the University of Massachusetts, Dartmouth with a BS in Business Marketing, Damery lives in West Yarmouth and enjoys gardening and immersing herself in the natural beauty and rich history of the Cape.
"Christine is a rising star at the Bank," said Joel Crowell, President and CEO of the Bank. "We're happy to provide advancement opportunities for our current colleagues, and look forward to the energy and excitement she'll bring to this position."