Special events scheduled from September 20-24
The Cooperative Bank of Cape Cod is pleased to announce the Grand Opening of their newest Branch at 238 Worcester Court, Falmouth, behind the CVS. Beginning with a Ribbon Cutting Ceremony on Tuesday morning, September 20, the Bank will kick off a week-long celebration of special activities and offerings for the public.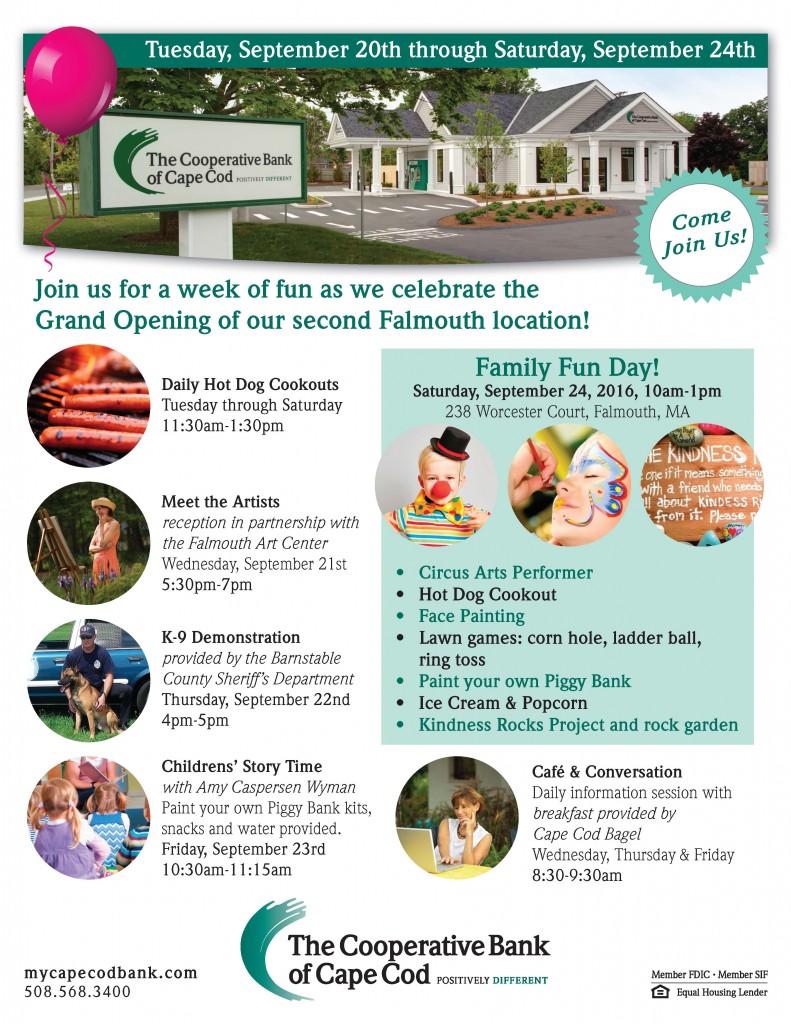 The Grand Opening Celebration starts Tuesday, September 20, and runs through Saturday September 24. The Falmouth community is invited to stop by the branch for refreshments provided by Cape Cod Bagel, morning workshops, afternoon hot dog cookouts, special Money Market and CD offers, and a Family Fun Day.
"We're thrilled to continue to provide positively different service to the Falmouth community," said Joel Crowell, President and CEO of The Cooperative Bank of Cape Cod. "The branch is equipped with new technology, while still maintaining our commitment to our Cape Cod roots, because at The Coop, we understand it's not technology or people, it's technology and people. That's community banking, it's what we do and why we're here."
The 2,500-square-foot full-service branch is located at 238 Worcester Court, Falmouth, and is equipped with new and innovative technology. The branch also features the friendly, comfortable service that customers of The Coop have come to expect.
This branch becomes the ninth location for The Cooperative Bank of Cape Cod and further demonstrates the bank's commitment to Falmouth. In 2013, The Cooperative Bank of Cape Cod opened their full-service branch at 660 North Falmouth Highway. Previously, the bank operated a small branch at 649 Main Street. The Worcester Court location replaces this office.