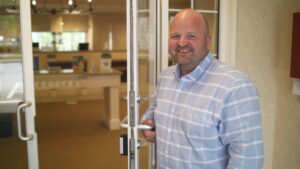 The Cooperative Bank of Cape Cod is turning 100 on July 19, and we're celebrating July 19 to 24 with fun, treats, and prizes at all of our branches! Every day, each of our branches will give away a gift certificate from a local business! Please stop by any of our locations to join our celebration.
The bank was founded on July 19, 1921 as a mutual community bank serving residents of the Cape and has remained true to that commitment for the past century.
"This is an exciting milestone as it not only underscores our resiliency, but also signifies what The Coop has meant to generations of Cape Codders," said Lisa Oliver, Chair, President and CEO of The Cooperative Bank of Cape Cod. "We are and always will be a community bank. Together we have met challenges and experienced successes. We have helped build homes, rallied behind small business owners, supported clients from their first savings account all the way to retirement, and all while supporting nonprofit organizations across the Cape."
Join us for PRIZES and TREATS!
You can enter to win at all of our branch locations with the winners to be announced after the week-long celebration! 

Grand Prize: Weekend in Provincetown!
2nd Prize: Nature Lover's Delight
3rd Prize: Foodie's Dream
Learn More About Our 100th Anniversary
Disclosure: No purchase necessary. One entry per person; must be 18 or older to enter; value will be reported on IRS Form 1099-MISC. You must be present to win a daily local business gift certificate. All entries received will be combined for drawing for prize packages of Provincetown Getaway, Nature Lover's Delight, and Foodie's Dream; you don't have to be present to win a prize package.