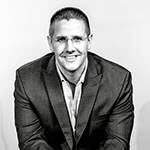 Jason Sorochinsky joined The Coop in May as the SVP, Chief Residential Lending Officer. He and his wife, Megan, along with their two-year old son, are currently living in Sandwich while they search for a home. Jason also holds a Commercial Pilot's license, which he uses in his spare time as a Mission Pilot for Angel Flight Northeast, a non-profit organization that provides free flights for individuals needing medical care.
I've bought three houses over the past several years and home buying is an exciting, but daunting, process. My first purchase at 22 years old was a two-family home, making me both a first-time homeowner and first-time landlord at the same time. Today, having recently relocated to the Cape with my family, I'll soon be re-engaging in the home buying experience. And, as the Chief Residential Lending Officer at The Coop, I'm looking forward to enhancing and improving the process for our customers. Of course, as a residential mortgage specialist, I've dealt with somewhere in the neighborhood of thousands of home purchases throughout my career. In honor of American Housing Month, here are 3 of my top tips when purchasing a home – whether it's your very first starter home or your dream retirement home!
Be Prepared
Before you start looking at houses, do your prep work. Get a pre-approval or a pre-qualification letter from an experienced mortgage lender. Equally as important, know your personal financial stats. Check your credit score with a reliable source, such as www.AnnualCreditReport.com. Know exactly how much house you can afford, bearing in mind the monthly principal, interest, property taxes, home owner's insurance, home maintenance estimates and any association fees. The process of shopping for homes will be exponentially more enjoyable when you're shopping in the right price range.
Speed of Response is Important
There are many time-sensitive steps throughout the mortgage process. Attorney, Realtor®, Lender, Insurance Agent and Home Inspector – these are a few of the people you'll be communicating with on a regular basis. Being able to respond quickly is critical. Whether that's by signing an electronic document (eSign), sending an email, or returning a call, timely responses keep the process from grinding to a halt. Fortunately, today much of that process is paperless, or what I call a "digital mortgage experience." That makes communication lightning fast and super easy. But if you prefer a more traditional path with paper, pens and office meetings, you always have that option, too.
Expect the Unexpected
Things will come up that are simply out of your control. There might be an issue with a title search from the previous owner. It could be that the house doesn't appraise for the purchase price. Or the closing date is suddenly shifted and you've got all of your belongings in a U-Haul sitting in front of your new dream home. The mortgage process is hardly ever perfect, but be patient and take a deep breath. It's a delay, not a derailment. You'll be relaxing in your new home soon!