Osterville Village Library Night at the Library for Adults
August 11, 2019 @ 12:00 am

-

2:00 am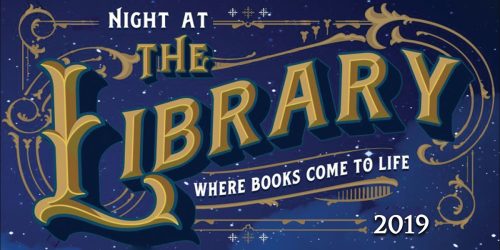 Welcome to " Night At The Library!"  Spend the evening shaken not stirred with James Bond. Ask William Shakespeare to tell the true tale of his inspiration for the sonnets.  Always entertaining, Mark Twain will have you laughing with rapid fire quips and quotes. Last if but not least, see  if Old Blue Eyes is willing to croon a tune. Osterville may never be the same. We're counting on it.
The Osterville Village Library and Cotuit Center for the Arts will collaborate to transform the library into a menagerie of history against a backdrop of celestial décor. It will be a midsummer's night dream, indeed.
Join them for an enchanting encounter with some of our favorite characters from literature, theater and the arts. All ages, backgrounds, and time periods! Through interactive theater, guests will have the chance to meet, talk, and otherwise enjoy the company of  timeless heroes, heroines,  and the authors who brought them to life.
Join the Osterville Village Library and Cotuit Center for the Arts for a "Night At The Library" on Saturday August 10th at 7pm  in the 20,000 plus square foot, 3 levels of the Osterville Village Library. Saturday night is geared for adults.
For children, there will be an encore presentation on Sunday August 11th from 3-5 pm. The family friendly version of Night at the Library will feature familiar characters from children's literature and theater.
Please consider their Saturday night VIP package by reserving a table of 8 for $1000. The price includes your table, 8 tickets, a complimentary event special drink and a selection of hors d'oeuvres.
Come one, come all. We are grateful for your continued support of the Osterville Library and Cotuit Center for the Arts!
Clink the link below to register!