As the Coronavirus (COVID-19) situation continues to develop, our priority is the health and safety of our clients and our employees. We are keeping informed from a variety of reputable sources, including the Center for Disease Control (CDC), to ensure that we are well positioned to do that. For the most up-to-date information on how The Coop is addressing these issues, clients can receive updates on our website and through our social media channels (Facebook, LinkedIn, and Instagram).
If you have been negatively effected by illness because of the Coronavirus and need additional assistance related to your account, please contact us and let us know.
We've compiled a list of our customer's Frequently Asked Questions here.
---
COVID restrictions lifted, new face covering advisory
Updated: May 28, 2021
The health and safety of our clients and employees are always at the forefront of decision-making. Since the start of the pandemic, we have and will continue to follow the guidance of the CDC and the State.
On May 17th, Governor Baker announced that effective May 29th, all remaining COVID restrictions will be lifted. A new face covering order will go into effect for the unvaccinated, consistent with the CDC guidelines announced earlier in the month.
To protect our employees and customers, we are asking those who are not fully vaccinated to adhere to the CDC guidelines and continue to wear a face covering in all of our locations. Our employees will do the same.
We understand what it means for you to be able to bank in person with us, and our employees enjoy working with you in person, too. As a community bank and community partner, we remain committed to providing the best in banking products and first-class service.
There are a variety of convenient ways for you to bank with us and we ask that if you're feeling ill, or believe you have been exposed to COVID-19, please use the ATM, drive-up window, or online banking until it is safe for you to bank with us in person.
Stay up to date on our social media and website, and, as always, we are available at 508.568.3400 and online to answer any questions you may have. From all of us at The Coop, we appreciate your trust in us and thank you for your support.
---
Our lobbies are reopening!
Updated: May 4, 2021
We have good news to share! Effective Tuesday, May 4, the rest of our branch lobbies will reopen for in-person transactions (reopening: East Dennis, East Harwich, and Yarmouth Port). We're excited to serve you in person, provided that you're not feeling ill, or believe you have been exposed to COVID-19. In either of those cases, we ask you to continue to use the ATM, drive-up window, or online banking until it is safe for you to bank with us in person. Additionally, please remember masks and social distancing are still required in our lobbies per state orders.
Our East Dennis, East Harwich, and Yarmouth Port lobbies will be open from 8:30 a.m. to 4 p.m. Monday through Thursday; 8:30 a.m. to 5 p.m. Friday, and 8:30 a.m. to 2 p.m. Saturday. Our drive-up hours will remain the same at all of our branches. Click here for our full listing of locations and hours.
Since the beginning of the pandemic, we have continuously monitored state and local case rates to help inform our decisions about lobby access. Because the positivity rate in Barnstable County is now under the "red" threshold, we believe it is safe for our employees and clients to bank in-person.
---
Ways You Can Bank with The Coop
Alternatives to 'In-person' Banking
Drive-Up Window: All of our branches have drive-up lanes, where you can make deposits, withdrawals, loan payments, transfer funds, and more. To find a branch near you, please visit our locations page.
Appointments: If you need to come into your branch to access your safe deposit box, open a business account, or other banking service, please call your branch to make an appointment. Phone numbers for each branch can be found on our locations page.
ATMs: Our ATMs offer an easy way to get cash, make deposits, transfer funds, and more. Because we're part of the Allpoint ATM network, you have surcharge-free access to over 55,000 ATMs. Learn more on our ATM information page.
What Can I Do Online or with My Coop App?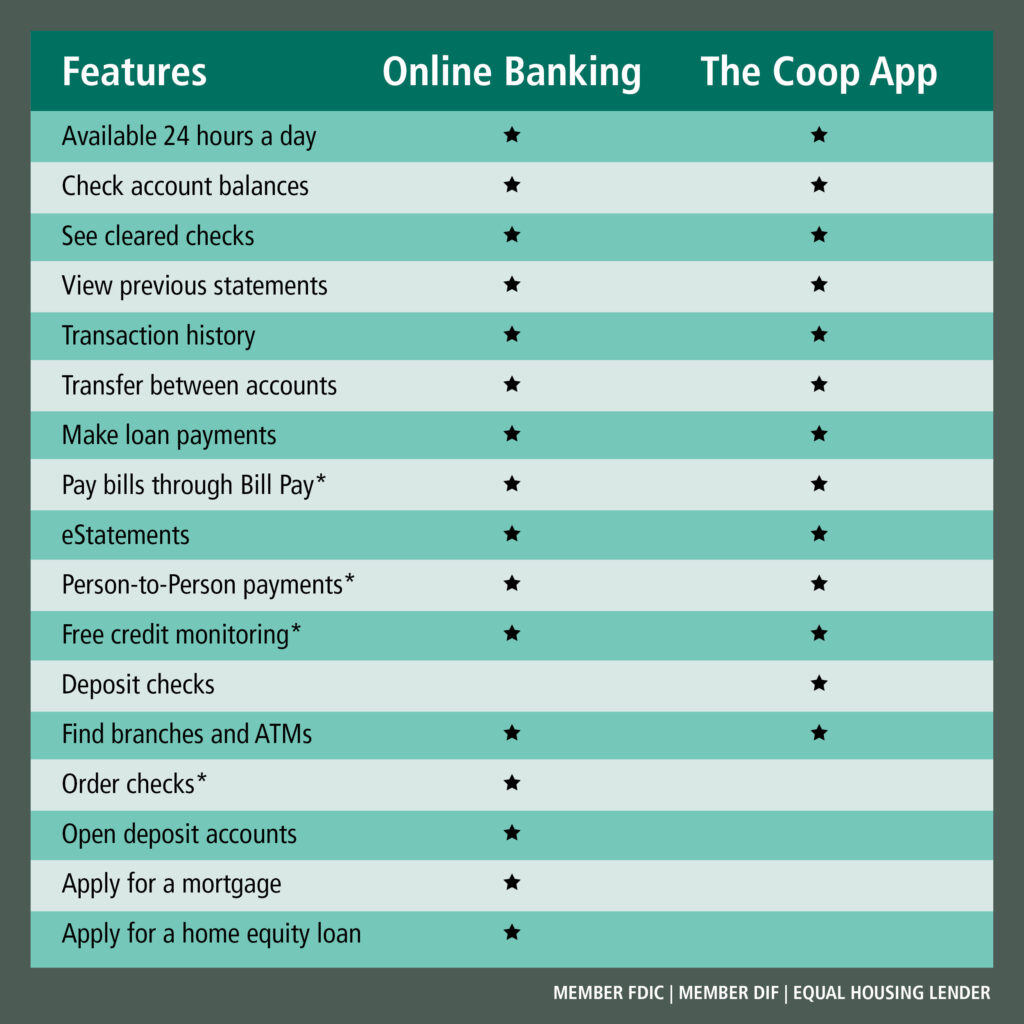 * Learn more about online bill pay with our FAQs. Zelle is an easy way to make contactless payments person-to-person. Keep up-to-date with your credit via our free SavvyMoney feature. Ordering checks is simple and convenient from our website.
To learn more about our online and mobile services, please visit the links below:
---
If You Need Personal Help with Technology
We have Technology Ambassadors in each branch who can help customers to setup online/mobile banking, address any technology issues, or answer any questions. Simply contact your nearest branch location and schedule an appointment.
Our Customer Assistance Team is also ready to help during regular Customer Assistance hours at 508.568.3400, by email at assist@mycapecodbank.com, or you may submit an inquiry online at https://www.thecooperativebankofcapecod.com/about/customer-service/.
---
Avoid Scams
Scammers have increased their activity lately, trying to take advantage of unsuspecting people and businesses. For tips to keep yourself secure, visit the Security Center on our website or the FTC's Coronavirus scam webpage: https://www.ftc.gov/coronavirus/scams-consumer-advice. A couple of helpful tips:
Watch out for COVID-19 scams – Fraudsters are actively trying to gather people's sensitive information with offers to get the vaccine early, for a fee, or ask for sensitive information. Only rely on trusted sources of information regarding the COVID-19 vaccines, including the county and state.
Be aware of gift card scams – Do not purchase gift cards or provide gift card information to anyone you don't know.
---
Daily Cleaning of Drive-Up Canisters and ATM Surfaces
Since the beginning of the pandemic, we have been following the CDC's guidelines for routinely cleaning commonly touched surfaces, such as drive-up canisters and ATM surfaces.
The ATMs and outside stations are cleaned multiple times a day with a special cleaning solution to prevent damage to the screens.  The canisters are cleaned multiple times a day with CDC recommended cleaning products along with the teller counters where the transactions are taking place.
---
Help for Mortgage Customers
We understand that many of our mortgage customers are facing financial challenges related to the Coronavirus pandemic and are worried about what lies ahead. Every customer's situation is different, and our team is ready to help you navigate your options. Please don't wait to talk to us about your mortgage concerns. Contact us at 508.568.3400, ext. 3556; LoanServices@mycapecodbank.com, or via our online contact form. We're here to help.
---
If you have any questions or concerns, please don't hesitate to reach out to us. The safety of our customers, clients, employees, and the community are our priority, and we will continue to do everything recommended by the medical community to ensure as few interruptions as possible.
Speak with Small Business Specialists
Speak with Investment Advisors