We understand that technology moves at a lightning pace and can be frustrating to keep up with. Let us help make it simple! Each of The Coop's nine branches now has designated Tech Ambassadors, whose role is to assist customers with online and mobile banking. Bring in your device − phone (Apple or Android), tablet, laptop − and our Tech Ambassadors can work through problems with you.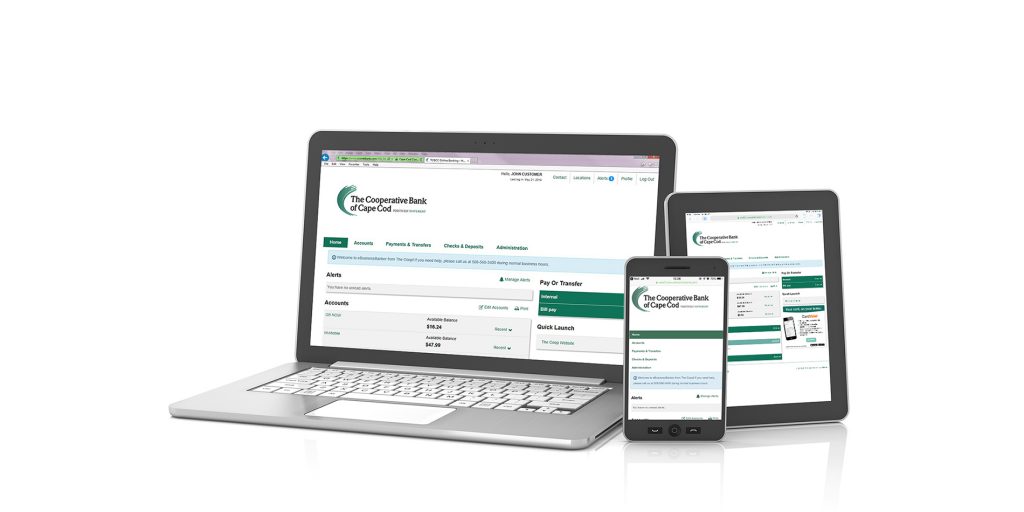 Tech Ambassadors can help with topics, such as:
Set up Online Banking, Mobile Banking or Bill Pay
Mobile Deposit, CardValet, Alerts
Troubleshooting
Password Reset
Download The Coop App
All branches are equipped with Wi-Fi, allowing customers to bring in all devices, including those without data plans. We have computer stations and iPads in all branch lobbies for customers to use, too. And you don't need an appointment!
The initial ambassador team includes nine employees, though we have plans to expand this core of highly trained employees throughout our organization.
Meet our Tech Ambassadors

Ceara Andrade
Ceara is Assistant Branch Manager of at our Marstons Mills branch. Her favorite apps are Amazon and Waze, and she couldn't live without her iPhone. She loves being known as tech savvy and helping customers feel comfortable with their electronics! Ceara enjoys painting, arm knitting, shopping, and walking with her son. She's active at Saint Anthony Church (East Falmouth), Big Brother Big Sister, and Celtics Community Crew.

Rob Brackett
Rob is at Teller at our West Barnstable branch. His favorite app is Pandora Radio, and he couldn't live without the technology in his car! Rob enjoys seeing how happy customers are when he helps them sort out all of their tech problems and they leave with everything working correctly. Rob enjoys spending time with his girlfriend and their dog, hanging out with friends at the beach or playing videogames and board games. And he loves working on his car, motorcycle, and boat.

Madison Cheverie
Madison is a Teller at our Hyannis branch. His go-to app is Google Chrome, and he could not live without his phone. For him, the most rewarding part about being a Tech Ambassador is getting to help customers make their banking more convenient. Madison enjoys playing the guitar and chess in his free time.

Jen Deutsch
Jen is a Senior Teller at our East Harwich branch. Instagram is her favorite app, and she couldn't live without her iPhone or Apple watch! Jen loves being able to assist customers with technology to help make banking easier for them. Jen enjoys spending time with friends, teaching spinning and strength training, and having fun with her family!

Rachel Freitas
Rachel is a Universal Banker at our Falmouth branch. Her favorites are any of her reading apps plus Starbucks: Coffee and books are lovely together! Rachel cannot live without her cellphone because she does all her banking online! She loves getting to learn about new technology as it becomes available and then being able to help customers also learn. Rachel enjoys reading, knitting, hiking, going to Disney, and traveling the world.

Randi Moore
Randi is a Universal Banker at our East Dennis branch. Instagram is her favorite app because she enjoys getting creative with her stories and cool GIFs, writing, and editing. Randi's also a longtime Twitter fan and gets most of her news on the go. She couldn't live without her iPhone! Being able to help customers understand and easily navigate technology is the best part about being a Tech Ambassador. Randi enjoys event planning, calligraphy, figure skating, trying new restaurants with friends, and coffee dates with her sister.

Cortney Oslund
Cortney is a Universal Banker at our Sandwich branch. Her favorite app is Instagram, and she'd be lost without her cellphone. The best part about being a Tech Ambassador is helping customer feel confident with our products and website. Cortney enjoys spending time with family and pursuing her real estate license.

Johanna Piselli
Johanna is a Senior Teller at our Yarmouth Port branch. Her favorite app is Instagram, and she cannot live without her TV or phone! Johanna loves getting that instant gratification when she helps a customer and they have a big smile on their face! Johanna loves to cook. She grew up with a mom who's a chef. She also loves to organize, anything and everything – the best feeling is a clean, organized home or space.

Krystal Solimine
Krystal is a Universal Banker at our North Falmouth branch. Her favorite app is Pinterest, and she would be lost without her iPhone! She loves seeing how much more confident a customer becomes after speaking with her about technology. Being new to the branch, this has been an excellent way for Krystal to get to develop relationships with customers. Krystal loves cooking, volunteering at her brother's day program activities (Community Connections) and going boxing.