We're turning 100! The Coop was founded on July 19, 1921 as a mutual community bank serving residents of the Cape and has remained true to that commitment for the past century. To celebrate our exciting anniversary, we've come up with 100 Reasons to Love The Coop with the help of our clients and employees. 100 Reasons to Love The Coop highlights what The Coop has meant to generations of Cape Cod residents, businesses, and employees over the century. We are and always will be a community bank. Together we have met challenges and experienced successes. We have helped build homes, rallied behind small business owners, supported clients from their first savings account all the way to retirement, and all while supporting nonprofit organizations across the Cape commitment to community and charitable giving. We are excited about this year and our future together!
Check back for more updates as we celebrate our 100th year!
Click here to view an accessible transcript
---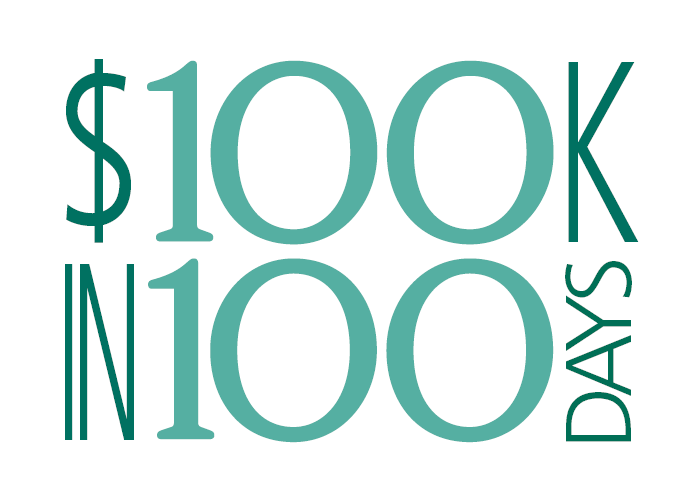 Usually, when someone has a birthday they receive gifts, but at The Cooperative Bank of Cape Cod we're doing things a little differently. The Coop is turning 100 on July 19, and we're celebrating by giving back to our community. In the 100 days leading up to our birthday, we're donating an additional $100,000 to nonprofit organizations on Cape Cod!
Focus Areas
Financial Literacy: Organizations addressing disparities in access to opportunities due to a lack of financial knowledge. This includes training for youth, seniors, immigrants, and underserved populations, as well as to the general population. Financial literacy includes topics such as basic banking knowledge, mortgages and loans, credit, and budgeting.
Healthy Cape: Organizations that are continuing to alleviate ongoing COVID health needs. This includes physical, emotional, and mental health impacted by the pandemic, as well as care and comfort for friends and family effected by loss.
Housing Initiatives: Organizations devoted to affordable housing, workforce housing, and housing that is affordable; or an organization who has a specific program tackling the housing crisis on the Cape.
Social Justice & Equity: Organizations working to create a more equitable community through racial/social justice training of staff and board members; greater diversity within the organization, including racial representation; implicit bias training; and/or actively working to bring vitality and abundance to minority populations on the Cape.
Of the $100,000, we are reserving $10,000 for the nonprofits our employees have chosen through a company-wide vote. We'll announce all of the final grant recipients on July 19.
---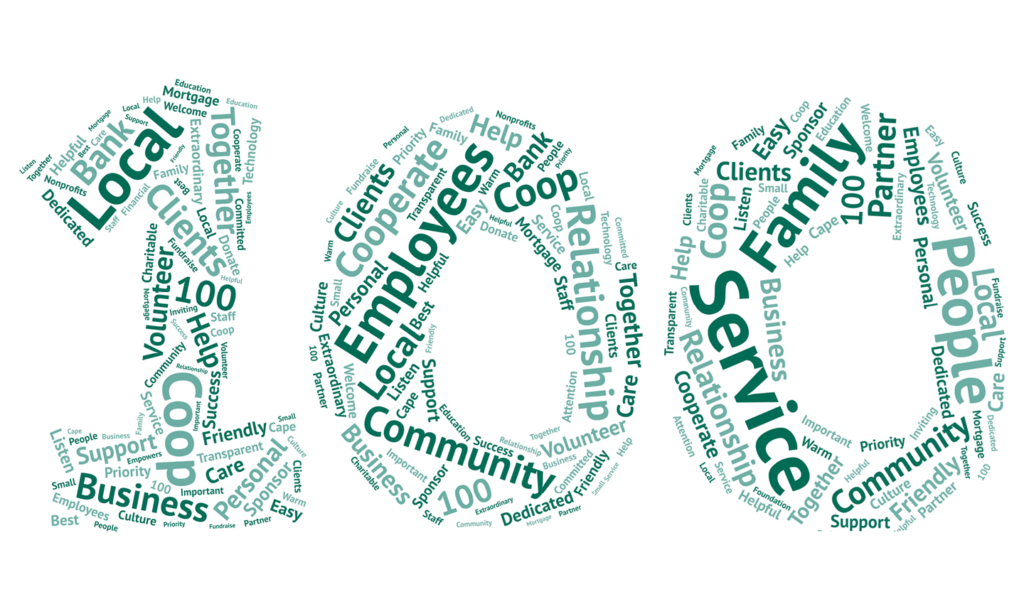 Reasons to Love The Coop
We've come up with 100 Reasons to Love The Coop by surveying our clients and employees, and we quickly realized there are over a million reasons to love The Coop! Here are some of the reasons that stood out to us:
Our dedicated employees who show up every day to support our wonderful clients, and each other.
Local decision making.
I bank with them and they shop at my business.
All the friendly Coop faces.
They sponsor our local events.
They helped me and my business during the pandemic.
They communicate openly and transparently.
The Yarmouth Port branch helped me get my PPP loan approved!
Extraordinary dedication to employees and clients.
The East Dennis branch helped me get documents notarized through the drive-up.
The mortgage team kept me updated during my entire mortgage process.
I love the people at The Coop!
Even though we couldn't meet in person (thanks, COVID), they took great care of me.
The Marstons Mills branch helped me set up "Bill Pay" after I bought my first car.
The Tech Ambassadors are so helpful.
The Coop came to the rescue when there was fraud on my account.
The Coop prioritizes small, local businesses.
My grandparents, my parents, us, our kids… we all bank at The Coop.
The staff goes out of their way to make things easier for us.
I needed help updating technology, and the Sandwich Branch was there for me.
They ask for customer feedback, and actually listen.
The community service your bank delivers.
The service and the people.
It's so easy to bank with The Coop online.
The staff at the East Harwich branch!
The Coop delivered an outstanding response to PPP applications.
I feel like I am the bank's most important customer.
When I came into the branch to open an account, the bank manager personally welcomed me, and shook my hand right there in the lobby (Pre-COVID).
They know my dog's name and always have a biscuit for him.
I received a free gift when I opened an account.
The West Barnstable Branch gives me personal attention and makes me feel like I am part of the family.
Their warm and inviting culture.
Employees volunteer throughout the community and serve on local boards of directors.
The Coop Foundation does great things on the Cape.
They're easy to work with and so knowledgeable.
They recognize good employees and promote from within.
Coop employees rally together to fundraise and volunteer.
The Coop honors and celebrates veterans and their families.
The Coop is like my business partner, they contribute to my success.
My kids deposited their allowance there 25 years ago, and still bank there.
No matter your issue, they are there for you.
The Coop is a great leader and generous supporter and partner of Cape Cod Young Professionals — especially in a time of crisis.
The Hyannis Branch helped us through an emergency when we were out of the country.
The Coop is committed to our community.
They help keep the local craft brewery and spirits scene alive.
Some of their employees are "Bigs" for Big Brothers Big Sisters of Cape Cod & the Islands.
The Coop has helped us at Seaside LeMans raise more than $7 million for more than 50 local nonprofits over 20 years.
They made our mortgage easy.
They raise money for nonprofits through their charity jeans days.
I love their partnership and community focus!
The CEO, Lisa, donated her refrigerator to Champ Homes!
They hold Annual Food Drives in their branches to support local food pantries!
They were great to work with when we bought our vacation house.
The Coop empowers and defends the potential of Cape Cod's young people.
The Coop was my summer job for six years and I loved it.
They always go the extra mile for my business.
The Coop is a great part of our summer life on the Cape.
They communicate better than any bank I've ever had.
They've been on the Cape for 100 years – who could know it better?
They help the homeless on the Cape through Duffy Health
The Coop reminds me of summers on the Cape.
They have the best staff of any bank, anywhere.
My first ATM card was from The Coop, and I still have that account.
They treat me right.
They helped me "reCoop" during the pandemic.
They had me at hello.
All the branch locations are convenient.
No surcharges at non-Coop ATMs in the Allpoint network.
Great digital banking services.
They do so much more than just write a check, they built a meaningful relationship with our nonprofit organization.
One-stop banking.
They have everything I need under one roof.
They're independent and they answer to their customers.
Their charitable giving really makes a difference right here on the Cape.
They have great financial education resources.
They really listen.
They care about their customers.
They work hard to build good customer relationships.
It's in their name: they "cooperate" with so many Cape Cod organizations!
They put the "you" in community banking.
Their employees help build houses with Habitat for Humanity.
The Coop supports the arts on the Cape.
For many years, one of their employees has volunteered to make 20 pounds of mashed potatoes for Champ Homes for Thanksgiving and Christmas!
"Without you, where would I be?"
They provided a grant for Falmouth Schools to purchase tents for outdoor learning during COVID!
They support the foodbanks on Cape Cod.
They invest in education by helping the Cape Cod Literacy Council and Falmouth Schools.
The Coop even helps people who aren't their customers.
They helped me balance my checkbook and dropped it off at my home when transportation was an issue for me.
They asked my non-profit, "How can we help you on a deeper level beyond writing a check?" They really care!
They're independent…not owned by a national company.
They're ethical.
They treat everyone equally, no matter how much money you have in the bank.
I love The Coop because they invest in people.
I wouldn't use any other bank!
At The Coop, I'm more than just a number.
They thrive because they help me to thrive.
Helping Coop customers isn't just my job. It's my passion!
They don't believe in "one size fits all" banking.
They've been around for 100 years.
They'll be around for 100 more!
Keep checking back as we continue to celebrate and share our celebration with you!
[cool-timeline layout="default" designs="default" skin="default" category="timeline-stories" show-posts="10″ order="DESC" icons="NO" animations="bounceInUp" date-format="default" story-content="full" based="default" compact-ele-pos="main-date" pagination="default" filters="no"]